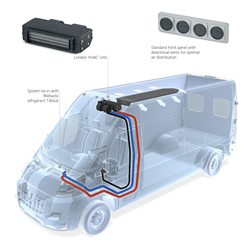 Webasto's first vehicle specific application for the London was designed for owners of the Ram ProMaster ®.
Fenton, Mich. (PRWEB) September 01, 2015
Webasto Thermo & Comfort North America has a wide range of integrated air-conditioning systems that offer comfortable and reliable temperatures. The London takes it one step further, offering the additional heating function, making it a fully integrated aftermarket HVAC system for medium duty applications, including the Ram ProMaster® and similar work vehicles.
Standard Tie-in HVAC System - London
Climate control in work vehicles is important yet sometimes hard to maintain. The London is available as an aftermarket solution to owners of the Ram ProMaster® for additional heating and cooling needs in their cargo space. The unit is compact and efficient, offering up to 32,500 Btu/h of cooling capacity and 44,500 Btu/h of heating capacity. This integrated HVAC system from Webasto can be installed in the driver's compartment bulkhead area with conditioned air delivery rearward, which allows for ease of installation without compromising valuable cargo space. This Standard Tie-in HVAC system utilizes the vehicle's existing in-line condenser and compressor for cooling. The London is equipped with high-efficiency blowers that deliver constant airflow and ensure a long service life.
Need More Cool?
For warmer environments where higher cooling capacities are desired, Webasto has introduced the Extreme Climate HVAC aftermarket system. This system is an independent HVAC kit that shares the same components as the London tie-in configuration with the addition of an auxiliary engine driven compressor, a compressor mount kit and a roof mounted-low profile condenser.
The Ram ProMaster®
Webasto's first vehicle specific application for the London was designed for owners of the Ram ProMaster®. Webasto's London Integrated HVAC aftermarket system has been customized with vehicle specific control units, air vents and ducts to perfectly fit within the cargo space.
Learn More
Webasto pioneered the development of fuel-operated air heating technology, introducing the world's first commercially available unit in the 1950's. The company produces more than a million heaters per year and remains a leading innovator of heating, cooling and ventilation systems for the transportation industry.
To learn more about Webasto heating and cooling products for medium duty vehicles, email WorkTruckHVAC(AT)webasto.com or visit http://www.webasto.com.

About Webasto:
Webasto Group based in Stockdorf near Munich has been a family-owned business ever since the company was founded in 1901. The group operates internationally at over 50 locations (over 30 of these production plants) in the divisions roof and thermo systems. Webasto is one of the top 100 automotive suppliers worldwide. For 2014 the Group realized a sales volume of 2.5 Billion Euros and employs over 10,000 employees. The company´s core competencies encompass the development, production and sales of complete roof and convertible systems as well as heating, cooling and ventilation systems for passenger cars, commercial and special vehicles, recreational vehicles and boats. For more information please visit http://www.webasto-group.com
Corporate Contacts
Webasto Thermo & Comfort North America, Inc.
Amanda Kopczyk
Ph. 810-593-6070
E-Mail: amanda.kopczyk(AT)webasto.com