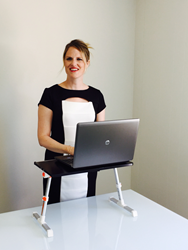 Standing at work is a great solution to relieve back pain, and now, business travelers can finally work at a standing desk, while on the road, with the Traveler Folding Stand up Desk.
Fairfax, VA (PRWEB) September 02, 2015
Knowledge workers, consultants, sales people, and other business travelers have all heard the bad news by now: sitting at work all day is really awful for people's health. And just because they're traveling, they shouldn't have to stop standing at work. Many frequent flyers complain of back and neck pain from long flights, sitting down and being cramped up in such a tiny space. And consultants who go to clients' offices are subjected to long hours of sitting, causing leg cramps and fatigue. The Traveler Folding Stand up Desk really will save the day for these people, whose travel season is about to get crazy.
In August, Best Standing Desks named the Traveler as the best foldable laptop table for travel, stating office workers should "minimize risk and still find healthy ways to use a laptop by using a foldable laptop table (while standing). The Traveler weighs two pounds so it's probably the lightest standing desk riser, yet it feels strong and stable."
And, earlier this year, Apartment Therapy named the Traveler Folding Stand up Desk a "Workspace Winner" in its guide to the best affordable standing desks. Apartment Therapy is a lifestyle website focusing on helping people create calm, organized and healthy spaces. The Traveler earned the "Winner Portability", because it is so lightweight, and "an all-in-one solution. It fits in a carry-on suitcase easily, so it's ultimately the most obvious travel solution for business folks."
The Traveler Folding Stand up Desk weighs two pounds, and comes in three colors: Midnight Black, Silver Matte, and Royal Blue. The desktop surface is 19.7 x 11 inches, and can be set flat or tilted up to 45 degrees. When tilted there is a lip that keeps the laptop from sliding. The sturdy aluminum legs fold for storage, and are height adjustable from 9.25 to 12.8 inches. The Traveler fits into standard-sized carry-on luggage. For office workers who travel frequently, this is the optimal standing desk solution, and very affordable.
To learn more, visit http://standsteady.com/ today.
Company Information:
About Stand Steady
Stand Steady is located in the greater Washington, DC area and is a leading manufacturer of affordable, ergonomic, adjustable standing desks. Stand Steady has sold thousands of desks nationally and internationally. Standing at work provides a solution to the negative impacts of sitting all day, such as back pain and increased rates of cardiovascular disease and diabetes. Stand Steady is a Certified Woman Owned Small Business; for more information about Stand Steady, please visit the company's Web site at http://standsteady.com/.
Contact Information:
Ellen O'Hearn, Creative Director
Stand Steady
703-688-3375