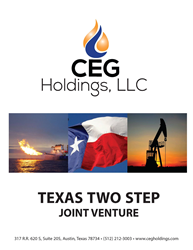 When it comes to tax-advantaged investments for accredited investors, one investment continues to stand alone above all others: OIL! And the opportunity to cash in on low oil prices is now.
New York, NY (PRWEB) November 20, 2016
Today's announcement marks the next step in the expansion of CEG's social media program.
As the oil & gas investor base across the country continues to grow, so does the demand for high quality actionable information. CEG believes their new Facebook page could provide the ultimate insider view of the oil & gas industry, and CEG Holding, LLC.
CEG's new Facebook social media page will feature new project information, coming industry innovations, videos, photos, original content, press releases and more.
CEG Holdings, LLC., CEO Steve Owen, said: "We're going to use the new Facebook page to keep investors up to speed on important oil & gas news and events, and share industry insider access."
CEG Holding's is dedicated to providing world class investor tools, education, money saving and potentially money making opportunities for accredited investors in the United States and Canada.
To visit CEG Holding's new Facebook page, click here- https://www.facebook.com/cegholdings/
CEG Holdings, LLC. Company Overview:
CEG Holdings, LLC., is an acquisitions company based in Austin, Texas, with over 70 years of energy industry experience, that specializes in buying undervalued oil & gas investment properties, with accredited individual & institutional investors. The corporate office is located at 317 Ranch Road 620 South, Suite 205, Austin, Texas, 78734. Our specialty is participating in lower risk, tax favorable oil and natural gas field development and exploratory drilling programs.
CEG Holdings is typically able to participate alongside large public companies drilling in productive areas where additional reserves are likely to be discovered. After 70 years of energy industry experience, we have learned what works and what does not. Following this disciplined pre-screening approach, which includes: utilization of 3D seismic technology, detailed field analysis, state record searches, working with the right oil well drilling companies, independent third party reviews and partnering with proven industry leaders, provides the highest odds for success.
CEG Holdings, LLC.
317 Ranch Road 620 south
Suite #205
Austin, TX 78734
(800) 830-3029
info(at)cegholdings(dot)com
http://www.cegholdings.com
The information contained herein is for informational purposes only. Nothing contained herein is an offer to sell, or a solicitation to sell securities.