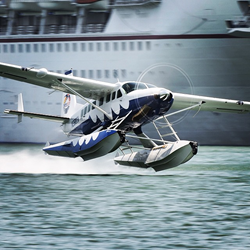 Tropic Ocean Airways is your first choice in world-class provisioning providing direct-to-yacht services to reduce costs and save time when transporting crew, supplies, and guests
Fort Lauderdale, FL (PRWEB) September 01, 2015
November 5th-9th, 2015, Tropic Ocean Airways is showcasing for a second year at the 2015 Fort Lauderdale International Boat Show in Booth number 629. The 56th annual show covers seven locations and more than 3 million square feet of space attracting an international audience of boating enthusiasts and industry professionals in the "Yachting Capital of the World." Tropic will be featuring their brand-new luxury 2015 Cessna Grand Caravan EX fleet, private island getaways, and offering high-end special offers to the private traveler and yachting industry.
With a solid military owned and operated foundation, this renowned seaplane operator excels in their industry due to their emotional understanding of the luxury lifestyle market, bespoke customer service, and perfect safety record. Tropic Ocean Airways is a leading provider of direct-to-yacht and door-to-dock, provisioning services throughout Florida, the Bahamas, and other parts of the Caribbean. The organization continues to establish strategic partnerships in order to ensure their guests and client requests are fully accommodated.
The airline offers reliable, convenient, and unparalleled first class air transportation services for yacht owners, brokers, and captains alike. The amphibious aircraft are capable of taking off from any runway and landing at an awaiting vessel to transport your supplies, crew, and distinguished guests. The company has been servicing yachts and private islands for over 5 years saving thousands of dollars on repositioning fees and desired time and effort.
Visit Tropic Ocean Airways at Booth 629 to learn more about their yacht industry and private aviation capabilities. Additionally, they will be featuring exciting boat-show only promotional offers, destination management and consulting, conducting interviews with their top leadership.
About Tropic Ocean Airways:
Tropic Ocean Airways provides a premium luxury lifestyle experience unmatched guest experience solidifying their position as the leading seaplane operator on the East Coast and the Bahamas. Founded in 2009 by US Navy TOPGUN Graduate Rob Ceravolo, Tropic Ocean Airways LLC is an FAA-certified air carrier specializing in luxury private aviation throughout Florida and the Caribbean. The company is owned and operated by highly experienced military aviators and backed by leading business executives with 20 years of experience managing high-end portfolios. Their fleet of showroom-quality aircraft are always flown by two pilots ensuring safety remains their top priority.
For more information, or to inquire about Tropic's bespoke services, please visit their website at http://www.flytropic.com, call a dedicated associate at 1-800-767-0897, and send an email to reservations@flytropic.com.
To contact a member of Tropic Management, or inquire about company information, partnership requests, and advertising, you may send an email to media(at)flytropic(dot)com, or contact via phone at 1-800-767-0897 Ext. 113.
Visit Tropic Ocean Airways social media sites to receive news updates, special offers, and leave feedback.
Facebook: TropicOceanAirways
Twitter: @flytropic
Instagram: Flytropic
Click Here to Subscribe to Tropic Newsletter