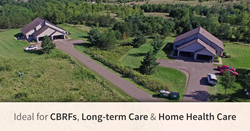 It allows me to free up literally 20 hours every week.
Hudson, Wisconsin (PRWEB) September 01, 2015
Serving Hands, a healthcare agency in Hudson, Wisconsin was struggling with staff who weren't turning in accurate time cards. Their staff is assigned to work at Community Based Residential Facilities (CBRFs) and group homes where often there is no management on site. They were encountering some employees who would leave work early, show up 15 minutes late or even have a co-worker vouch for them and skip their shift completely.
With nearly 150 employees, Serving Hands was paying thousands of dollars every year in payroll which wasn't earned. They looked for a better solution and found Aladtec online employee scheduling and workforce management would not only solve that particular problem but the system also made scheduling their staff much easier and they were able to reduce the amount of time spent on payroll by 20 hours a week.
"Prior to Aladtec we used paper and pencil to create the schedule and we relied on each employee to complete a paper timecard that got submitted to payroll. There were several things that were not great about it. One, being the onus was entirely on the employee to accurately and truthfully record their worked hours. There was no checks and balances in place to monitor that. With a paper schedule, it also made it hard to disseminate the information and it was hard to prevent errors in a rotating shift schedule. When a change was made, the schedules that were possibly in people's hands were not accurate," explains Macy Westerham, Executive Director, Serving Hands, Hudson, Wisconsin.
Because Aladtec is an online software system, employees can view their schedule anytime and anyplace from their smartphone, computer or other mobile device. They can also trade shifts through the system and request time off. Changes are instantaneous so the schedule is always current.
"We use the system's biometric fingerprint scanner for clocking in and out. It has allowed us to guarantee accuracy in timekeeping and we know the report generated by the system of all our staff's work hours are correct when it's given to payroll," shares Westerham.
The accounts payable department spends half of the time they previously spent to accomplish the weekly payroll.
"Aladtec has helped in a variety of ways. In my department alone, it's saving me incredible amounts of time. It allows me to free up literally 20 hours every week to spend on other projects and activities rather than payroll," says Kenneth Fiedler, Accounts Payable Administrator, Serving Hands. This agency also relies on their Aladtec system for maintaining accountability.
"In human services and healthcare you are accountable for how many service hours you're providing to each client and now we can easily track that. Aladtec also provides an easy avenue to keep track of which caregivers are trained to serve which clients, and in which environments," adds Westerham. "Also, any time there's an error made, such as a medication error, we can use our Aladtec system to track back to see who was on duty during that time so we can decide if there's retraining or remediation that needs to happen."
The administrative staff at Serving Hands were a bit reluctant to switch to Aladtec due to their lack of technical abilities. Laughingly Westerham says, "All of the administrators at Serving Hands are very computer illiterate and the customer support team at Aladtec have been very kind and patient with us."
Fiedler chimes in, "I think one thing to take into consideration when it comes to Aladtec is that they have the single greatest customer service I've ever dealt with in my entire life."
About Serving Hands: Serving Hands is a mid-size agency that provides services to people with with physical disabilities, mental disabilities and the aging. They have both CBRF's and group homes located in three regions of Wisconsin. Their mission comes from Galatians 5:13 - Serving others, humbly in love.
About Aladtec: They proudly provide online employee scheduling and workforce management software to nearly 1,500 organizations, primarily within the Public Safety Sector. These customers count on Aladtec every day to help them save time and improve efficiency. For information about their affordable industry specific options, or to try a free trial, please visit http://www.aladtec.com.
CONTACT INFORMATION:
Aladtec, Inc.
906 Dominion Drive
Hudson, WI 54016-4538
(888) 749-5550 Toll-Free
(715) 690-2300 Phone
(801) 406-5550 Fax
mellissa(at)aladtec(dot)com
info(at)aladtec(dot)com
http://www.aladtec.com