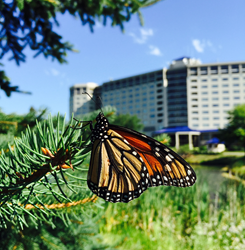 As a community steward, Oak Brook Hills is committed to sustainability and protecting the natural environment.
Oak Brook, IL (PRWEB) August 31, 2015
The Monarch butterfly population has been in decline, but the Illinois State insect is getting some unlikely help with their migration in the western suburbs. At the Hilton Chicago/Oak Brook Hills Resort & Conference Center, which features a Horticultural Gallery on their 150-acres of Audubon-certified grounds, waystations are attracting Monarchs on their annual trek south. Due to the spirited efforts of the hotel's full-time horticulturalist Karen Paquin, who has created an official on-site Monarch habitat, Oak Brook Hills announced today that the beloved pollinator is dropping by in significant numbers.
"It's encouraging to see so many beautiful Monarchs enjoying our beautiful grounds," said Paquin, who spearheads a "sustainable ecology program" at Oak Brook Hills, an IACC Green Star/Gold Status hotel. "Our Horticultural Gallery not only educates guests on what's in balance with our native region, but all these pollinators are helping the property's ecosystem flourish." The resort is also home to a successful Honeybee program, which includes several on-site hives that house close to a half million more pollinators.
Added Oak Brook Hills general manager Stefan Mühle, who spent more than a decade conceptualizing, developing, and managing green hotels in San Francisco, "As a community steward, Oak Brook Hills is committed to sustainability and protecting the natural environment. We hope some of our best practices, such as maintaining Monarch waystations that are relatively easy to create in home gardens, will inspire others to follow in out footsteps."
Monarch butterflies, which are crucial pollinators, migrate 1,500 miles, from central Mexico to Canada, every year and need stopover sites, with food and shelter, along their way. In order to be designated a certified Monarch waystation, sites along the Monarch's path must meet or exceed certain requirements, including: a minimum number of milkweed and nectar plants, proper drainage and soil type, certain garden size, correct exposure to sun, plant proximity (for shelter), and appropriate management. More information on the Monarchs can be found at http://www.MonarchWatch.org/waystations.
In addition the Monarch Butterfly and Honeybee programs, some of the other features of the Horticultural Gallery at Oak Brook Hills include:

Foodscaping Garden: an educational garden highlighting a new type of edible landscaping using vegetables in an ornamental as well as a functional way.
Chefs Garden: true chef's sourcing gardens that incorporate vegetables and herbs specifically for executive chef Sean Patrick Curry's kitchen which promotes "modern farm cuisine."
Drink/Cocktail Garden: a garden containing herbs specific to infusions and cocktails for the hotel bar. Examples include Elderberry Bushes for a signature blend of house made signature teas.
Audubon education: members of Oak Brook Hills' horticultural and grounds team host local middle schools, educating students by discussing green initiatives and joining together for Audubon projects such as installing special landscaped areas.
Prairie restoration: or prairie "reconciliation" – as Paquin puts it. The development of the native areas on the golf course will take them back to the way they used to be.
Native Bird Boxes: Screech Owl boxes, Hawk Platforms, Bluebird boxes and positioned around the estate to encourage native bird sightings and protected habitat.
Planting of Fruit Trees. Varieties include Chicago Hardy Fig, Persimmon, Pear and Cherry. The harvest is used in the resort's culinary and bar recipes.
Continual division and relocation of existing perennials around the property: By making the perennial beds the best they can be, Paquin is helping to create a new aesthetic in blooming gardens.
About Hilton Chicago/Oak Brook Hills Resort & Conference Center:
Just west of downtown Chicago and nestled into the quiet suburb of Oak Brook, Illinois, Hilton Chicago/Oak Brook Hills Resort & Conference Center (3500 Midwest Road, Oak Brook, IL 60523) is a preferred destination for getaways, golf trips, family vacations, weddings and business events. With over 42,500 square feet of IACC certified meetings and event space, the hotel is an ideal venue for business meetings, conferences, retreats, banquets and social functions. The 348 rooms and 38 suites are complemented by extensive and flexible event space including a tented outdoor pavilion, exercise facilities, indoor and outdoor swimming pools, numerous dining options, and the award-winning Willow Crest Golf Club. The property is managed by Westmont-based Portfolio Hotels & Resorts. Visit http://www.oakbrookhillsresortchicago.com for reservations or more information, or call the hotel direct at 1-630.850.5555.
Media Contact:
Jody Grimaldi
Grimaldi Public Relations
630.470.0044
Jody(at)GrimaldiPR(dot)com