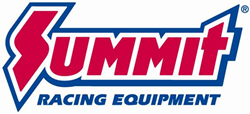 Tallmadge, OH (PRWEB) September 09, 2015
Summit Racing now offers Fluidampr Harmonic Dampers for late model import cars including Subaru, Audi/VW, and Scion. A Fluidampr uses viscous silicone fluid between an internal inertia ring and a laser welded steel housing to control all crankshaft vibration—not just a limited frequency range—at all rpms.
Import performance cars can be more negatively affected by torsional vibration than V8-powered American muscle. Import performance engines are smaller, usually run at higher rpm, and many have turbochargers. These factors can create large amounts of torsional, or crankshaft vibration. This vibration only gets worse if the engine is modified for more power.
Using a Fluidampr to control torsional vibration means reduced wear on the main bearings and timing gear, more stable valvetrain operation, and less chance of crank failure. Vehicle owners can also recover lost horsepower and torque.
What's more, the inertia ring freely rotates inside the housing, which keeps up to one-third of the Fluidampr's mass off of the crankshaft. That provides excellent damping while still allowing the engine to rev quickly.
Fluidampr Harmonic Dampers are CNC-machined for precise fit and balance, and are SFI 18.1-certified for racing use. They won't crack or separate like rubber-based dampers, and never need to be rebuilt or tuned.
Latest Applications

2013-15 Subaru WRX and BR-Z
2013-15 Scion FR-S
2008-15 Mitsubishi Evolution
2008.5-2013.5 VW Jetta and Passat (TSI, except Golf R)
1994-2005 VW Jetta V6
2008.5-up VW Golf (TSI/TFSI, except Golf R)
2008.5-up Audi A3 and TT (TSI/TFSI)
Summit Racing also carries Fluidampr Harmonic dampers for Honda/Acura, Mazda, and Toyota vehicles.
Summit Racing Equipment
http://www.SummitRacing.com
1-800-230-3030