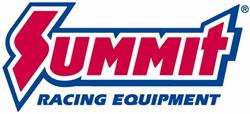 Tallmadge, OH (PRWEB) September 11, 2015
Keep exhaust heat inside the header pipes where it belongs with Thermo-Tec Carbon Fiber Exhaust Wrap. It can reduce underhood temperatures up to 70 percent and allows hotter exhaust gases to escape more quickly, improving exhaust scavenging and lowering air/fuel intake temperatures.
Cooler underhood temperatures also keep heat away from sensitive electronics, improving efficiency and extending their life. Plus, the carbon fiber appearance looks pretty darn cool
Thermo-Tec Carbon Fiber Exhaust Wrap is made with pulverized lava rock called basalt. It is extremely pliable, resistant to discoloration, and can withstand continuous temperatures up to 2,000 degrees Fahrenheit.
The wrap installs easily with standard hose clamps or Thermo-Tec's optional stainless steel Snap Straps. The wrap comes in 50 foot rolls in a choice of one or two inch widths.
Summit Racing Equipment
http://www.SummitRacing.com
1-800-230-3030