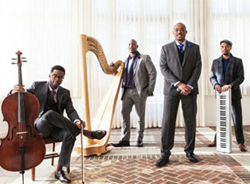 We are deeply grateful for all of the hope, support and awareness this event brings to the ichthyosis community, year after year." Jean Pickford, CEO, FIRST
Colmar, PA (PRWEB) September 02, 2015
The fourth annual Dane's Friends for FIRST benefit concert and silent auction will be held on Saturday
September 12, 2015 at 6:30 PM at the Flint Center for the Performing Arts in Cupertino, California. Dane's Friends for FIRST is a fundraising concert event that was inspired by the life and memory of Dane Christian Phelps. Dane was affected with a form of ichthyosis that involved undetected cardiac issues, leading to heart failure in 2008, at the age of 3 ½. Proceeds for the concert will benefit the Foundation for Ichthyosis & Related Skin Types, Inc.(FIRST).
The auction and food trucks will be onsite between 4:00 pm - 6:00 pm (bidding will continue during intermission). This year's concert features season 9, 4th place finalist on America's Got Talent, Sons of Serendip. The concert will also feature performances by other artists, including the Capitol Dance Competition Team, the Valley Christian High School Vivid Competition Dance Team, and other musicians. The event will also include a silent auction featuring one-of-a-kind items from a number of corporate and private donors.
To learn more and purchase tickets: http://www.danesfriendsforfirst.com/
About the Foundation for Ichthyosis & Related Skin Types, Inc.
The Foundation for Ichthyosis & Related Skin Types, Inc. (FIRST) is the global leading advocacy group dedicated to families affected by ichthyosis and related skin types. FIRST's mission is to improve lives and seek cures for those affected by ichthyosis and related skin types. The foundation has supported more than $1.7 million in research funding for better treatments and eventual cures. For more information, call toll-free at 1.800.545.3286 or visit http://www.firstskinfoundation.org