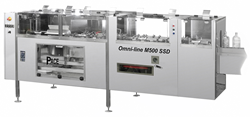 FAIRFIELD, N.J. (PRWEB) August 31, 2015
Pace Packaging, powered by Pro Mach, features at Pack Expo 2015 in Las Vegas, Sept. 28-30, its most in demand bottle unscrambler, the Omni-line Model 500, and the company's high-speed Pharma-line Model 400, capable of unscrambling and delivering an ionized air rinse and concurrent vacuum at speeds greater than 300 bottles per minute. Both machines will be in continuous operation during all three days of the show to demonstrate their operating capabilities. (Pace Packaging Booth C-2919)
"Companies in the dairy, food, beverage, consumer products, and pharmaceutical industries know that Pace Packaging's machines are second to none in terms of high throughput and trouble free operation," said Glenn Kelley, Vice President of Sales and Marketing, Pace Packaging. "The Omni-line and Pharma-line machines at the show are perfect examples of the type of highly engineered robust solutions customers can expect from Pace Packaging."
Omni-line machines can handle off-center neck bottles, F-style bottles, square bottles, trigger sprays, bottles with external or internal handles, silk screened bottles, in-mold label bottles, full bottles, and other odd shaped bottles. Machines are built with stainless steel. The Omni-line features tool less changeovers: Easy, simple, and less than 10 minutes. Each Omni-line machine offers floor level access to all components for ease of operation and maintenance.
Pharma-line 400 machines, all with stainless steel construction, unscramble multiple bottle formats and sizes for liquids and tablets, including rounds, squares, rectangles, ovals, and jars, with options for custom containers. Pharma-line machines can be changed over in less than 10 minutes with no tools required, and they also provide floor level access to components. Pace Packaging follows the pharmaceutical good manufacturing practice (GMP) guidelines. As an option, machines can invert bottles for ionized air rinse and concurrent vacuum. Pharma-line solutions are also in high demand by nutraceutical and vitamin companies.
For more information on Pace Packaging Omni- and Pharma-line machines, call 800-867-2726 and visit http://www.PacePackaging.com to learn more about the company's full lines of bottle unscramblers, bottle orientors, and conveyor cleaners. And, visit Pace Packaging at Pack Expo Booth C-2919 to see the machines in continuous operation.
About Pace Packaging
Pace Packaging is a leading global manufacturer of automated bottle unscramblers and orientors based in Fairfield, New Jersey. Pace, founded more than 45 years ago, built its reputation on manufacturing high-quality, innovative systems that deliver high-speed performance for a wide variety of bottle types and product applications. In addition to unscramblers and orientors, Pace also manufactures conveyor cleaning systems for filling and bottling lines. http://www.PacePackaging.com
About Pro Mach
Pro Mach is a leading provider of integrated packaging and processing products and solutions for food, beverage, consumer goods, pharmaceutical, and other diverse companies. Through its brands, Pro Mach provides product packaging and processing equipment, PMMI certified training, installation, parts, and service in Bottling & Capping, Primary Packaging, Flexible Packaging, Material Handling, Labeling & Coding, and End-of-Line Packaging.
Pro Mach has a diverse customer base, from Fortune 500 companies to smaller, privately-held businesses worldwide, which depend on reliable, flexible, technologically advanced equipment and integrated solutions. Pro Mach is headquartered near Cincinnati, Ohio, with manufacturing facilities and offices throughout the United States, Canada, Mexico, and Europe. For more information about Pro Mach, visit http://www.ProMachInc.com.