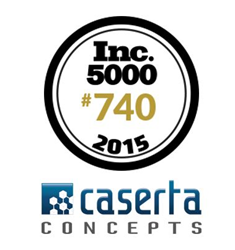 The growth of Caserta Concepts is due to our vision and commitment to provide business technology solutions that are innovative and timeless...
New York, NY (PRWEB) September 02, 2015
Inc. magazine ranked Caserta Concepts, an award-winning innovation data technology and implementation consulting firm, No. 740 on its 34th annual Inc. 5000 List, an exclusive ranking of the nation's fastest-growing private companies.
Founded and led by Joe Caserta, renowned data strategist and entrepreneur, Caserta Concepts' ranking is based on sales growth over the past three years and places the firm in the top 15% of all companies, across all industries nationwide. The company is also among the top 6% of ranked IT Companies, and #5 of the 42 New York-based IT companies that made the list.
"The growth of Caserta Concepts is due to our vision and commitment to provide business technology solutions that are innovative and timeless, and established to exactly fulfill our clients' unique strategic business goals," said Joe Caserta, the company's president and founder. "It is an honor to be included in the Inc. 5000 list and be recognized for our progressive growth and industry strength. I'm proud of the entire Caserta Concepts team as we continue to develop differentiated solutions for our world-class roster of forward-thinking clients."
According to executives at Inc. magazine, The 2015 Inc. 5000 is the most competitive crop in the list's history. The average company on the list achieved an impressive three-year growth of 490%. The Inc. 5000's aggregate revenue is $205 billion, generating 647,000 jobs over the past three years. Complete results of the Inc. 5000, including company profiles and an interactive database that can be sorted by industry, region, and other criteria can be found at http://www.inc.com/inc5000.
The list represents the most comprehensive look at the most important segment of the economy—America's independent entrepreneurs. Caserta Concepts is in good company as businesses such as Yelp, Pandora, Timberland, Dell, Domino's Pizza, LinkedIn, Zillow, and many other well-known brands gained similar early recognition as members of the Inc. 5000.
"The story of this year's Inc. 5000 is the story of great leadership. In an incredibly competitive business landscape, it takes something extraordinary to take your company to the top," says Inc. President and Editor-In-Chief Eric Schurenberg. "You have to remember that the average company on the Inc. 5000 grew nearly six-fold since 2012. Business owners don't achieve that kind of success by accident."
About Caserta Concepts:
Caserta Concepts is an award-winning strategic consulting and technology implementation firm specializing in big data analytics solutions, data governance, data warehousing and business intelligence. Founded and led by industry thought leader and best selling author, Joe Caserta, consultants collaborate with CIOs and IT organizations across a variety of sectors including banking and financial services, healthcare, ad-tech, higher education and ecommerce to build technical data solutions and provide business analytics services to maximize data value.
Connect with Caserta Concepts on Twitter and LinkedIn
You can also follow Joe Caserta on Twitter and LinkedIn
More about the Inc. 5000
The 2015 Inc. 5000 is ranked according to percentage revenue growth when comparing 2011 to 2014. To qualify, companies must have been founded and generating revenue by March 31, 2011. They had to be U.S.-based, privately held, for profit, and independent--not subsidiaries or divisions of other companies--as of December 31, 2014. (Since then, a number of companies on the list have gone public or been acquired.) The minimum revenue required for 2011 is $100,000; the minimum for 2014 is $2 million. As always, Inc. reserves the right to decline applicants for subjective reasons.
The Inc. 5000 is a list of the fastest-growing private companies in the nation. Started in 1982, this prestigious list of the nation's most successful private companies has become the hallmark of entrepreneurial success.
For more information on Inc. and the Inc. 5000 Conference, visit http://www.inc.com/.