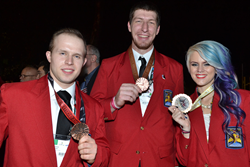 The WorldSkills Competition highlights the worldwide issue of preparation of a highly skilled workforce.
Leesburg, Va. (PRWEB) September 01, 2015
SkillsUSA, the organization that represents the United States in the WorldSkills Competition, sent a team of 18 career and technical education students to São Paulo, Brazil to compete in the international event Aug.11-16, 2015.
The SkillsUSA WorldTeam won three medals at the 2015 WorldSkills Competition. Brock Miesner of St. Ann, Mo., was awarded the bronze medal for Refrigeration and Air Conditioning. Andrew Cardin of Sutton, Mass., won a Medallion of Excellence for Welding. The Medallion of Excellence is awarded to competitors who earn 500 or more points but do not medal. Lauryn Erickson of Hersey, Mich. won the Best of the Nation for Hairdressing. The Best of Nation honor is given to the competitor with a high score who demonstrates the qualities of leadership for their country's team. Michael Mullin of San Luis Obispo, Calif. Competed in Automotive Technology and was ranked fifth among 21 competitors. All 18 of the SkillsUSA WorldTeam members received a Certificate of Participation.
The students tested their skills against more than 1,189 students representing 59 countries and competing in 50 official skill competitions and one demonstration contest. Competitors from 17 to 22 years old demonstrated their excellence in a variety of trade and technology contest areas. The next competition will be held in 2017 in Abu Dhabi, United Arab Emirates.
The WorldSkills Competition highlights the worldwide issue of preparation of a highly skilled workforce. Simon Field of the Organization for Economic Co-Operation and Development (OECD) stated in the book Learning for Jobs, "Countries are recognizing that good vocational education and training makes a major contribution to economic competitiveness. The wealth of nations will come to rely more on the skills of their people than on natural resources."
The competitors earned the right to be members of WorldTeam by being members of SkillsUSA, and by winning local, district and national contests in the SkillsUSA Championships program. Candidates then participated in an application and interview process. The selected members then completed a full training program to prepare for WorldSkills.
Members of the SkillsUSA WorldTeam who competed in the 2015 WorldSkills were:

Automobile Technology: Michael Mullen, San Luis Obispo, Calif.
Bakery: Maria Buko, Saginaw, Mich.
Beauty Therapy: Bailee Romero, Sarasota, Fla.
Bricklaying: Daniel Furr, Concord, N.C.
Cabinetmaking: Jacob Wozniak, Springville, N.Y.
Graphic Design Technology: Spencer Wolf, Kettering, Ohio
Hairdressing: Lauryn Erickson, Hersey, Mich.
Heavy Vehicle Maintenance: Dustin Mortsolf, Lansing, Kan.
Manufacturing Team Challenge: Daniel Dossett, Friendsville, Tenn., and Erica Heckman, Oak Ridge, Tenn.
Mechanical Engineering Design — CAD: Jake Rivard, Whitinsville, Mass.
Mechatronics: Ian Gwaltney and James Womble, both from Cleveland, Tenn.
Plumbing and Heating: Chris Royea, Williamstown, Vt.
Refrigeration and Air Conditioning: Brock Miesner, St. Ann, Mo.
Restaurant Service: Luis Vazquez, Allen, Texas
Web Design: Nick Taylor, Tempe, Ariz.
Welding: Andrew Cardin, Sutton, Mass.
About WorldSkills
Every two years, hundreds of young people from 73 countries and regions compete in the prestigious WorldSkills Competition. In 2015, more than 1,200 competitors tested their skills in São Paulo for four days in 50 occupational skill areas Accompanied by their teachers, trainers and industry technical committee experts, these young people competed before the public in contests that were run and judged by industry using demanding international standards. Member countries include: Japan, England, Saudi Arabia, Canada, Australia, Thailand, Argentina and many others.
Over its 65-year history, WorldSkills International (formerly known as the International Vocational Training Competition) has come to symbolize the pinnacle of excellence in vocational training. It provides a unique means of exchange and comparison of world-class competency standards in the industrial trades and service sectors of the global economy. The continued growth of WorldSkills International attests to the fact that traditional trade skills, along with today's newer technology's multi-skilled occupations, make an essential contribution to the economic strength of every nation.
A total of 5,000 international experts, delegates and judges and 3,000 volunteers were required to plan and run the competitions. An estimated 150,000 spectators viewed the competition at the Anhembi Park Centre. For more information about WorldSkills International events, go to: http://www.WorldSkills.org.
About SkillsUSA
SkillsUSA helps students follow their passions to their ultimate careers. As a nationwide partnership of students, instructors and industry working together, SkillsUSA works to ensure America has a skilled workforce. It helps every student excel. The nationwide career and technical education student organization annually serves more than 320,000 high school, college and postsecondary students — and their instructors — in technical, skilled, and service occupation instructional programs. Career and technical education is learning that works for America. SkillsUSA has the active support of more than 500 corporations, trade associations, businesses and labor unions at the national level. Over 11.9 million people have been annual members of SkillsUSA since its founding in 1965. SkillsUSA programs teach leadership, citizenship and character development to complement technical skill training. The organization emphasizes respect for the dignity of work, ethics, workmanship, scholarship and safety. For more information, go to: http://www.SkillsUSA.org.
Industry Support for TeamUSA
Unlike other national teams in the WorldSkills Competition, the SkillsUSA WorldTeam is funded solely through private donations. Alcoa Foundation was the Presenting Sponsor of the 2015 SkillsUSA WorldTeam. Other organizations that made a financial or in-kind commitment to prepare the WorldTeam included the American Welding Society; Architectural Woodwork Institute; Association of Woodworking and Furnishings Suppliers; Autodesk Education; Automotive Service Technology contest national technical committee; Carhartt Inc.; Construction and Home Improvement Markets; Deere & Company; Diesel Equipment Technology contest national technical committee; FESTO Corporation; International Association of Plumbing and Mechanical Officials; and the National Institute for Automotive Service Excellence. To donate or support the SkillsUSA WorldTeam, go to: http://www.skillsusa.org/competitions/worldskills/.