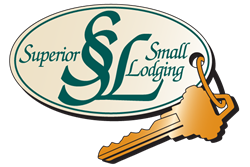 The association provides the small hotelier with a forum to work as a collective for branding, marketing and purchasing initiatives, something that is unavailable to them as a small independent property
Ft. Lauderdale, FL (PRWEB) August 31, 2015
The Superior Small Lodging Association (SSL), an association of small, independently owned inns, hotels, B&B's, cottages, vacation homes and luxury condos in Florida, announced today that its annual conference will be held on December 6th and 7th 2015 in Delray Beach, FL. The theme of this year's conference is "Partner's in Excellence."
"The association provides the small hotelier with a forum to work as a collective for branding, marketing and purchasing initiatives, something that is unavailable to them as a small independent property," said Scott Rivelli, Executive Director of the association. "Since annual inspection is a requirement of membership the Superior Small Lodging brand has come to represent a standard of excellence and commitment to service that sets SSL members apart from other independently run properties."
The annual conference gives small, independent innkeepers the opportunity to meet and share ideas, information and experience with their peers. The seminars are a chance to learn about new management and marketing opportunities for small properties and the trade show showcases new products and services that are available to the hospitality industry. Although mainly for its members, the conference is open to all owners and managers of lodgings of 50 rooms or less in the state of Florida.
This year's conference will be held in Delray Beach, at the historic Old School Square Cultural Arts Center. The site is listed on the National Register of Historic Places and is the perfect venue for a group that epitomizes the "Authentic Florida" feel with modern conveniences.
"We are excited to be holding our annual convention in Delray Beach," said Rivelli. "The city has twice been awarded the "All-American City" award and in 2012 was named "America's Most Fun Small Town" by USA Toda Travel. It's a vibrant, intimate town and is a great place for our members to meet."
Anyone wishing to attend or to learn more about the Superior Small Lodging Association please contact Scott Rivelli, Executive Director.
About The Superior Small Lodging Association
The Superior Small Lodging Association (SSLA) is a non-profit association of independently owned and managed boutique Inn's, B&B's and hotels throughout the State of Florida with fewer than 50 rooms. Established in 1989 to bring brand awareness to the smaller boutique lodgings as an alternative to the large corporate branded hotel chains, the Superior Small Lodging Brand has come to represent a partnership of unique lodging properties offering a high level of service, comfort and cleanliness at competitive rates. Each year our members' properties are inspected by an independent inspection company and those that meet specific cleanliness standards are recognized with our White Glove Award for cleanliness. Excellence in quality and service are also recognized. With approximately 170 member properties representing almost 3,000 hotel rooms, time shares and vacation rentals throughout the State of Florida the success of the Superior Small Lodging program is undisputed and gives prospective guests the comfort of knowing that when they book a Superior Small Lodging property they can be assured of a high standard of excellence.