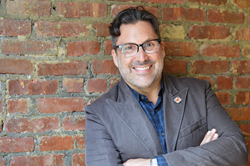 "I am looking forward to taking NGI to the next step in its evolution using the tools that I have used to run successful, innovative and value-creating businesses in the corporate sector." - Jonathan Cetnarski
New York, NY (PRWEB) September 01, 2015
Natural Gourmet Institute (NGI) is pleased to announce that its Board of Directors has appointed Jonathan Cetnarski as Chief Executive Officer, effective September 1, 2015.
Jonathan comes to NGI as a transformational executive and a true leader. He spent 15 years developing and running value added practices for a payments company where he also created and grew their data analytics business, long before data analytics was well understood. Most recently, Jonathan ran a managed services division of a large global telecoms company where he was responsible for acquisition, retention, profitability and customer experience.
"We're excited about Jonathan's history of working with powerful teams to grow businesses in a strategic and thoughtful way," says Natural Gourmet Institute Chair Kaila Colbin. "NGI has a 38-year legacy of being the world leader in health-supportive culinary education, teaching people how to prepare food that is both nutritious and delicious. We're looking forward to working with Jonathan to bring that message to a bigger and broader audience."
Jonathan also brings a passion for health-supportive sustainable food to the position. His experience in the food industry includes serving as the incoming President of the Board for a NYC non-profit, EcoStation:NY where he focuses his time helping to create a sustainable strategy and structure. EcoStation:NY builds youth and community education programs around the sustainable food movement, including organizing local farmer's markets and running an educational farm at the Bushwick High School.
"It is inspiring to me that Natural Gourmet Institute, and founder Dr. Annemarie Colbin, had the vision to understand that Seasonal, Local, Whole, Traditional, Balanced, Fresh and Delicious is the right way to eat - long before anyone else made that connection," says Cetnarski. "I am looking forward to taking NGI to the next step in its evolution using the tools that I have used to run successful, innovative and value-creating businesses in the corporate sector."
About Natural Gourmet Institute
Founded in 1977 by Annemarie Colbin, Ph.D., Natural Gourmet Institute (NGI) is the leader in health-supportive culinary education. Natural Gourmet Institute's Chef's Training Program is a comprehensive and professional program that trains students to meet the growing demand for culinary professionals who are able to make the connection between food and health. NGI's interactive and dynamic Certificate Programs are designed to give students first-hand experience and expertise in the areas of Writing for Food Media, Sustainable Meat, Culinary Tours, Culinary Nutrition, Sustainable Farming, Raw and Living Foods, Cooking for People with Illness and Food Entrepreneurship. Natural Gourmet Institute also offers public intensives, hands-on instruction, demonstrations and lectures for the healthy cooking enthusiast. On Friday night, the school is transformed into an intimate dining room, where Chef's Training Program students and instructors prepare a three-course vegetarian Friday Night Dinner that is innovative, delicious and beautifully presented. http://www.naturalgourmetinstitute.com