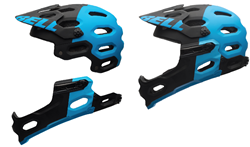 Bell's experience in head protection combined with the foresight of our design team created new innovation in the category with the Super 2R
SCOTTS VALLEY, Calif. (PRWEB) September 01, 2015
Adding to its list of distinctions as an innovator in protection products, Bell Helmets celebrates the Bell Super 2R mountain bike helmet being named a silver award winner in the Industrial Designers Society of America (IDSA)'s 2015 International Design Excellence Awards (IDEA).
The Bell Super 2R secured this award as a top winner in the Sports, Leisure and Recreation category in the 2015 IDEA - one of the world's most prestigious design competitions. More than 1,700 products from around the world entered the IDEA 2015 competition, including 621 finalists in 20 IDEA categories.
"The Super 2R is a breakthrough product designed and ultimately introduced at the front end of the trend of enduro racing. Bell's experience in head protection combined with the foresight of our design team created new innovation in the category with the Super 2R, helping fulfill the needs of our most extreme customers," said Jessica Klodnicki, executive vice president and general manager of Bell, Blackburn, C-Preme brands. "We're thrilled to see one of our most exciting mountain bike helmets receive this prestigious honor from the IDSA."
The Super 2R helmet took the all-mountain and enduro mountain bike world by storm upon its introduction thanks to its versatility to be essentially two helmets in one. A follow on to the award-winning Super mountain bike helmet, the Super 2R debuted a removable chin bar that provided extra frontal face protection for extreme riding conditions with the ability to remove and store the chin bar for milder riding environments and climbs where less protection is necessary.
About Bell
From humble beginnings in the garage of a Southern California speed shop in the 1950's to the heads of champions in auto, motorcycle and bicycle competitions all over the world, Bell Helmets is synonymous with protection and progression. Part of BRG Sports and based in Scotts Valley, Calif., Bell Helmets is the world leader in the design, manufacture and distribution of bicycle and motorcycle helmets and accessories.