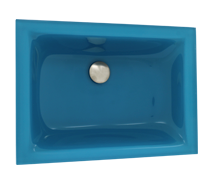 (PRWEB) September 02, 2015
MR Direct Int. is proud to announce the arrival of their newest product, the under mount glass sinks. These sinks are designed to mount into the countertop saving space as well as elevating any bathroom. Because this sink is both non-porous and frosted it gives the sink a soft, sleek appearance. This glass model provides the beauty of glass, usually seen only in vessel sinks.
The under mount glass sinks come in two main models, for now, and they are the UGM and the UG1913. The UGM is being sold for $179 and the UG1913 is being sold at $199, both excellent prices for everything they offer. The main difference between these is that one is a oval shape and one is more of a rectangle shape so they are both ready to fit almost any design that you can contemplate. These sinks are ready for purchase right now in both Turquoise and Black but have other colors ready for pre-order such as Taupe, Frosted, Emerald, Coral and Aqua.
Being non existent in the marketplace, these sinks have been long awaited by MR Direct. Again, innovating in the space of home renovation, MR Direct has found a new niche product that other companies have simply missed the mark on. Realizing the growing need for space in the bathroom as more and more renters and homeowners alike would like to design to their taste, MR Direct has added a under mount sink for the glass bowls for the bathroom.
ABOUT MR DIRECT INT. Headquartered in Toledo, Ohio, MR Direct International is a supplier and distributor of its own distinctive "MR Direct" brand of superior-quality sinks and faucets. Because MR Direct products are sold direct to customers, with no "middle man," prices are maintained at very affordable levels. MR Direct is a dynamic company, developing and introducing new sink and faucet models on a regular basis.
Contact: Paul Best
paul@mrdirectint.com
MR Direct International
(419) 841.1820