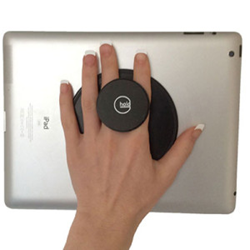 (PRWEB) September 02, 2015
"G-Hold" was featured on NewsWatch as part of its monthly Tech Report, which features the latest and coolest technology products available to consumers. Amanda Forstrom, a technology expert and special reporter for NewsWatch, conducted the review and shared with viewers how this device was designed for people to comfortably hold a tablet while reducing the likelihood of it dropping.
Tablets like the iPad and Samsung Galaxy Tab have afforded people a convenience in life that smartphones and laptops just can't offer. But that doesn't mean it doesn't come with its own set of inconveniences. Tablets can be a pain to hold for long periods of time and are easy to drop. The solution? The new G-Hold.
Made in Scotland, this simple gadget will save a tablet from the user. With the G-Hold people will find themselves no longer lose their grip on the tablet, keeping it secure in their hand. There are two different versions: the megastick which is a permanent attachment to the back of a tablet or case and the microsuction which uses tons of little suction cups to adhere to a device.
The G-Hold technology in each version is the same – all users have to do is pull up the handle then slip it through their fingers for a solid hold. Users can hold it in any position because of its ergonomic rotation. Each version comes in 5 colors - pink, green, blue, yellow and black and is compatible with any tablet. The megastick goes for $24.95 while the microsuction fetches for $34.95.
To learn more, visit http://www.creativetechgadgets.com today.
About NewsWatch
NewsWatch is a weekly 30-minute consumer oriented television show that airs on the Discovery Channel and ION Network. NewsWatch regularly features top technology products and services, mobile applications for iOS, Android, and Windows devices, unique and beautiful travel destinations around the world, health and medical tips, and entertainment interviews on the show. NewsWatch airs on the Discovery Channel at 7:00 – 7:30 AM ET/PT.
NewsWatch is located in the greater Washington, DC area and has been on air for over 25 years. For more information or to watch the most recent episode, visit http://newswatchtv.com/tech-report.html.