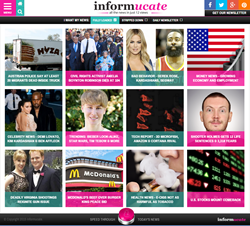 Informucate.com delivers and explains 12 stories a day that cover top news, as well as health, trending, entertainment, money, technology, and the popular 'bad behavior' report.
(PRWEB) September 02, 2015
Informucate.com is an innovative daily explainer news site with a difference: it synthesizes the news into 12 current stories (under 200 words) with explanations of jargon, concepts, and key terms right alongside the stories.
Informucate.com does not aggregate its news. All daily stories are uniquely selected by editors and written by journalists.
Compared to bloated and biased news sites, as well as other "explainer" sites that in actuality do not explain, informucate.com allows viewers to get their news in just a few minutes a day, and more importantly, understand what they have read.
Informucate.com also offers NewsBites, a subscriber email newsletter, which links back to Informucate.com.
The 12 stories cover the top news of the day, as well as health, trending, entertainment, money, technology, and the popular 'bad behavior' report.
Also incorporated into Informucate.com is a video encyclopedia full of trivia, including such categories as arts and entertainment, dog and cat breeds, college guide, famous people, health, food and drink, sports, U.S. presidents, and more.
By presenting a mixture of news that runs the gamut from serious to entertainment to trending, the 12 stories give everyone the information they need to stay informed and be more confident at work, school and in social settings.
According to research (the Media Insight Project "How Millennials Get News" http://www.mediainsight.org/Pages/projects-studies.aspx), one-third of millennials do not keep up with the news on a regular basis, yet 85% claim that keeping up with the news is important to them. Among reasons cited for not following the news are the time required, the bias of sites, the sensationalism of the news, the negativity and fear mongering, and the difficulty in understanding global topics. Other complaints mention the annoyance of ads and click bait.
Informucate.com seeks to address these issues with its mission— "All the News in Just 12 Views" — using news and information to educate, entertain, and ultimately, to keep conversations flowing—through concisely written stories and videos which explain what viewers need to know—now.