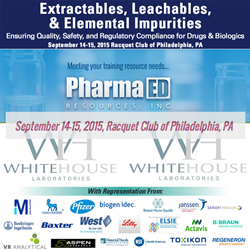 this conference has proven to be highly useful and informative. We know are staff members attending will learn the most up to date information
Whitehouse, NJ (PRWEB) September 02, 2015
Whitehouse Laboratories is excited to announce that key Technical Services Staff members will be attending Pharma Ed Resources upcoming educational seminar and training session on Extractable & Leachable testing. Featuring a well-known and respected group of industry leading speakers, this timely conference will provide Updates & Case Studies on the Latest Compliance Implications of USP and ICH Guidelines for Elemental Impurities, Development and Justification of a Risk Evaluation Matrix to Guide Testing Necessary to Select and Qualify Plastic Components used in Production Systems for Pharmaceutical and Systematic Extractable Risk Assessment Of Polymeric Product Contact Materials In The Manufacturing And Packaging Of Biologics. The meeting will be held September 14-15 at the Racquet Club of Philadelphia.
"Executive Management of Whitehouse Labs places a high emphasis on continuing and relevant education for our employees as a means to best serve our client. Pharm Ed Resources, and specifically this conference on E&L programs, has proven to be highly useful and informative. We know are staff members attending will learn the most up to date information," states Whitehouse Labs COO Mark Stier.
The timeliness of the conference cannot be overstated. With current changes to key USP chapters specific to extractable and leachable testing on the verge of implementation, it is imperative that industry players quickly become up to date with new regulatory expectations specific to USP 661, USP 1663 and USP 1664. In addition to the key topics noted above, the meeting sessions will also discuss other critical areas to include: Materials Characterization and Extractables and Leachables, Designing and Executing Studies, Safety Assessment of Leachables, Managing the Risks of Leachables from Single-Use Processing Equipment, Extractables & Leachables Considerations in the Qualification and Validation of Single-Use Systems, An Approach for E&L Evaluations of High Risk Infusion Devices, Practical Approaches for Extractables/Leachables Study and Toxicological Assessment for Printing Inks for Large Volume Parenteral Drug Products, Industry Working Group Updates from PQRI, BPOG, and BPSA.
For information on attending the conference please visit http://www.pharmaedresources.com.
Whitehouse Laboratories - The Testing Partner to Manufacturing Companies, Whitehouse Labs is an FDA regulated, DEA Licensed, ISO 17025 and ISTA certified contract service provider to the pharmaceutical, medical device, personal and consumer product industries. Whitehouse Laboratories offers analytical services for the testing of materials, finished products, container and package systems that enable our clients to meet and exceed the required quality standards established by the key regulatory agencies.