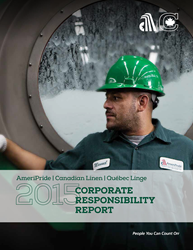 "We're excited to share this snapshot of our efforts to be a sustainability leader in the industry and have a positive impact in the communities we serve," said Bill Evans, President and CEO of AmeriPride.
Minneapolis, Minn. (PRWEB) September 01, 2015
AmeriPride Services, a leading textile rental services and supply company in North America, today announced the availability of its first-ever Corporate Responsibility Report. The report outlines key programs and initiatives AmeriPride is implementing across the company as part of its commitment to environmental sustainability, the health and safety of its employees and the well-being of the communities it serves.
"We're excited to share this snapshot of our efforts to be a sustainability leader in the industry and have a positive impact in the communities we serve," said Bill Evans, President and CEO at AmeriPride. "As one of the larger players in the industry, the family ownership and management at AmeriPride believe it's our responsibility to use our available resources to test and help advance new environmentally-friendly technologies. We are also committed to the overall wellness of our employees and communities, which we demonstrate through industry-leading safety programs and community outreach."
Evans added that by striving to set the standard for clean operations – both in its facilities and on the roads – the company is often able to pass efficiency and value on to customers. Recent environmental achievements outlined in the report include:

Fleet enhancements and alternative-fuel vehicles have reduced the emissions by more than 152 metric tons
Solar panels in their New England branch have reduced the it's carbon footprint by 162 metric tons per year
Water heater and boiler improvements have lowered costs and reduced the carbon footprint by 821 metric tons
Heat reclamation equipment is expected to reduce the company's carbon footprint by more than 1,000 metric tons
The Corporate Responsibility Report also outlines AmeriPride's efforts to maintain a safe culture for employees in its headquarters, facilities and fleet, such as a comprehensive safety training program, voluntary facility inspections, and safety and health committees at every branch. The company has also installed advanced telematics technology in all company vehicles, which provides verbal coaching to drivers in real-time and provides notifications to management if safety guidelines are not followed.
Finally, the report details the many ways AmeriPride's branches give back and strengthen ties with their local communities, including an annual, company-wide 'Day of Service' in which employees volunteered more than 6,000 hours to local organizations in 2014. In addition, the company supports its employees through an employee assistance program, continuing education and a rewarding culture that reflects AmeriPride's family values.
The report is available online at http://www.ameripride.com/corporate-responsibility/ and can also be requested in hard copy.
About AmeriPride
Headquartered in Minnetonka, Minn., AmeriPride Services is recognized as one of the largest textile rental and supply companies in North America. Operating more than 115 production facilities and service centers throughout the United States and Canada, the company provides linen and towels, uniforms, floor mats, restroom and cleaning products to nearly 150,000 customers through rental and purchase programs. As a true business partner, AmeriPride helps customers improve their image while keeping facilities clean and employees safe. Innovation, personalized service and a dedication to company values has sustained the private, family-owned company for more than 125 years. AmeriPride's demonstrated commitment to customers, the community, employees and the environment has made them the People You Can Count On. Additional company information can be found at http://www.ameripride.com.