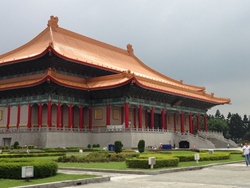 Bicycle Adventures is set to pedal into Taiwan this fall with 11 day trips led by Lonely Planet guide writer Joshua Samuel Brown.
Redmond, WA (PRWEB) September 02, 2015
Redmond, Washington based Bicycle Adventures will pedal through Taiwan this fall with two 11-day trips led by Lonely Planet Author and noted Taiwan expert Joshua Samuel Brown. Brown, a lifelong cyclist, is partnering with Bicycle Adventures to lead and translate on the Taiwan tours. Fluent in Mandarin, the author says he's looking forward to stepping aside from writing for a while to introduce people personally to the food, culture, traditions and excellent cycling of Taiwan.
Taiwan's government has made substantial investment in bicycle tourism over the past several years, investment that has funded protected bike lanes, paved bike paths and other amenities for cyclists throughout the island. Taiwan offers a picturesque, tropical backdrop for riders, who flock to the island to ride well-maintained roads winding through lush tropical rainforest, serene rice paddies, and some of Asia's most intense mountains. Cycling on the island has garnered more attention over the past years thanks to the daunting annual Taiwan KOM race, which rides through Taroko Gorge and offers near 20-degree ascents.
Off the bike path, riders will have the chance to indulge in a variety of typical Taiwanese experiences, including feasting at lively night markets teeming with amazing food, visiting colorful Buddhist, Taoist and Confucian Temples, soaking in natural hot springs, and taking a high-speed trip to the top of Taipei 101 (one of the world's largest skyscrapers).
In addition to the Taiwan trip, Bicycle Adventures will also be hosting two new 10-day tours through Southern California this autumn. Catering to inbound Chinese tourists, these tours will feature primary Southern California tourist spots, major flight hubs, and built-in time for shopping. Participants will explore such hotspots as Palm Springs, Joshua Tree National Park, Los Angeles & other venues in Southern California. The tour features a classic version with high-end lodging accommodations and inclusive meal plans, and a frugal plan offering more basic lodging and more out-of- pocket meal options. Both tours travel the same route and run concurrently. Tours are open to both English and Mandarin speakers and offer Joshua Samuel Brown's services as guide and translator.
About Bicycle Adventures
National Parks, scenic byways, local dining and 4- and 5-star accommodations are hallmarks of Bicycle Adventures, which has been offering deluxe, fully supported bicycle tours since 1984. Types of bike tours include Classic (25-50 miles a day), Classic Plus (50-60 miles a day) and Epic (70+ miles a day, with challenging terrain). The Lewis & Clark bike tour series pedals the routes traveled by America's most renowned explorers; award-winning Family tours offer multi-sport adventures and riding on safe, scenic bike paths.
Pre-set departures and custom bike tours explore the Pacific Northwest into Canada, California and the Southwest, as well as the Dakotas, New York, Hawaii, Chile, New Zealand, Spain and the island of Taiwan. The Redmond, WA- based company's line-up includes a National Geographic 'Tours of a Lifetime' award-winning Empire Epic cycling tour from Washington to Montana's Glacier National Park. Its family tour series garnered Outside Magazine's 'Best of Travel 2015' award.