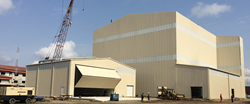 I have been erecting buildings in remote areas of Africa since 1980, and you are always concerned about two things: the building being shipped complete and all the parts being fabricated correctly.
(PRWEB) September 01, 2015
Last year Mike Thompson, had a mission, he had to find the best quality steel buildings in the world. His customer at Semeli, a multinational oil company based in Port Harcourt, had specifically requested top notch materials made in the United States or Europe. After months of research and a dozen of project inquiries, he made the decision to carry out this project with Allied Steel Buildings.
Semeli's customer was looking for an 112'x112'x72' building for blasting equipment, and a 61'x72'x25' building that would be used for office and storage.
Since 1956 when crude oil was discovered in commercial quantities at Oloibiri, the economy of Port Harcourt changed dramatically. It moved to petroleum when the first shipment of Nigerian crude was exported through the city in 1958. Thanks to the benefits of the Nigerian petroleum industry, Port Harcourt was further developed, with aspects of modernization over the last 50 years such as overpasses and city blocks. Many oil firms such as Royal Dutch Shell, Chevron, and Semeli's customer, have offices and oil facilities in the area.
Allied was able to differentiate from the competitors by being able to assist Semeli from the initial design all the way through the steel buildings' installation in the old fields. Mike Stock, Senior International Account Manager at Allied, who handled the project from the beginning, made sure the building was delivered on time following the specifications defined by Mr. Thompson and his team.
"The buildings for Semeli in Nigeria were a magnificent initial step in illustrating what type of product we provide. It took the entire International Department working with our client, their engineering firm, the shipping company, and John, our Construction Manager on the ground, to assure the successful installation of both buildings. It is a fantastic example of teamwork leading to success." Mike Stock.
After the initial design approval, both buildings were engineered and fabricated in the United States. Engineering, detailing and fabrication took only 12 weeks and 45 days later the building arrived in Lagos from Houston. One week after that, the containers were on the job site, jointly with John Wilson, Africa Construction Manager at Allied Steel Buildings, who was sent by Allied to coordinate the installation. All materials arrived on time; everything was delivered completed and worked perfectly. This greatly facilitated the installation process, which was carried out without any issues. The Nigerian crew followed John's instructions to detail and worked tirelessly for several weeks to make sure both buildings were installed before the end of August.
For John, the openings on this project were particularly challenging. Between both buildings, four types of doors had to be shipped and installed. The main building entrance displays a huge 100'x73' (30.5x22 m) bi-parting door that is currently the tallest door in Port Harcourt. The door operates like an airplane hangar door and offers the biggest possible opening range to the building. Each side of the door weighs 8 tons, and thanks to a spotless installation handled by Mr. Wilson, they can be rolled with just one hand. For the smaller building's entrance, they wanted to use a Bi-fold door, and both buildings include roll-up doors and swing doors.
John said: "I have been erecting buildings in remote areas of Africa since 1980, and you are always concerned about two things: the building being shipped complete and all the parts being fabricated correctly. Every item shipped by Allied was complete and the building fit together almost perfectly. It stands out on the site with numerous other buildings of the same type like comparing a Cadillac to a Yugo."
With this project, Allied continues to demonstrate its mastery of delivering and installing steel buildings to the African continent. In less than one month, both buildings have become a reference for quality standards and excellence on installation.
Currently, the buildings are completed and expected to be fully operational by the end of the year coinciding with the dry season.
About Allied Steel Buildings
Allied Steel Buildings, is a recognized leading supplier of high-quality pre-engineered steel buildings and metal building systems. In its more than ten years of experience, the company has developed almost 4,000 different steel projects all over the world, delivering building solutions for diverse industries, from industrial to commercial. One customer and one building at a time.