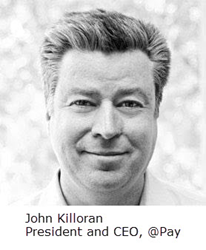 @Pay was founded on the goal of raising billions of dollars of new money for good causes. Partnering with iATS Payments is an important step towards this goal.
Albuquerque, New Mexico (PRWEB) September 03, 2015
@Pay LLC, an express payment technology company, today announced that its platform integrates with iATS Payments. This integration enables a new frictionless process for nonprofit fundraising.
@Pay's express payment technology enables supporters to easily and securely give to their favorite causes. Just like with any express payment experience, users go through a simple one-time account setup process. Once the account is created, donors can give to any nonprofit using @Pay's express payment technology with just two simple clicks each time.
The unique approach of @Pay's express payment technology compared to others is that no additional login IDs and passwords nor special apps are required to authorize each donation. @Pay's patented technology utilizes tokenized transactions via SMTP, leveraging the security and authentication mechanisms inherent within email. @Pay presents a new mobile solution for online fundraising. Its express payment technology works on the three apps that come installed on every single smartphone right out of the box: email, web browser, and text messaging.
iATS Payments' suite of donation processing tools enables nonprofits to better reach donors all over the world, making it convenient for them to give and for nonprofits to receive the funds they need. iATS ensures a secure and cost-effective means of receiving donations for all major credit cards and direct debit (ACH). It is also integrated with many of the most popular Donor Management Software packages used by nonprofits. The iATS integration with @Pay enables fundraisers to increase their revenue by opening up new ways to receive donations from their supporters.
"We're very excited to be integrated with iATS Payments," said John Killoran, @Pay President and CEO. "@Pay was founded on the goal of raising billions of dollars of new money for good causes. Our technology makes it incredibly easy for people to give to good causes. If you make it easy for people to give, they will -- and give often. Partnering with iATS Payments is an important step towards this goal. iATS is an established worldwide provider of payment services to nonprofits with over 10,000 organizations around the world using their platform. Through the @Pay and iATS integration, these organizations could raise hundreds of millions of dollars of more money for their causes. This is very exciting!"
We're thrilled to announce our partnership with @Pay", said Tom Epplett, CEO and founder of iATS Payments. "More importantly, we're excited to maximize product offerings through our partner network and integrate with our first email fundraising platform providing a low cost solution to nonprofits to reach mobile donors."
About @Pay
@Pay is an express payment technology company. Using its patented technology, anyone can instantly and securely purchase or donate with just 2 clicks – anytime, anywhere, on any email-enabled device. @Pay helps fundraisers where they need it the most by encouraging and facilitating repeat donations. Donors enjoy the @Pay 2-click express donation experience because they have a way to give that is quick, easy, and safe. @Pay has been serving non-profits and faith-based organizations for over 4 years. Its headquarters is in Albuquerque, New Mexico and has operations in Washington D.C., Kentucky, the San Francisco Bay Area, and Oregon.
About iATS Payments
iATS Payments works with more than 10,000 nonprofits around the world, including in Canada, the U.S., the U.K., throughout Europe and more, to deliver credit card and other payment processing tools to charitable organizations. The company focuses solely on assisting charities and the not-for-profit sector, providing the resources needed to keep nonprofits running efficiently. The organization provides magnetic stripe readers and a host of fraud prevention and protection to ensure nonprofits receive their donors' funds promptly and securely.