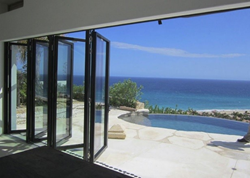 "The Photo Story Contest entries that we receive each year are both stunning and inspirational," said NanaWall Systems CEO Ebrahim Nana.
SAN FRANCISCO, CA (PRWEB) September 01, 2015
NanaWall Systems announces six winners of the third annual Photo Story Contest, which were selected based on each project's premier design, application story and imagery. NanaWall customers submitted photography and testimonials in hopes to gain national exposure for their design projects.
"The Photo Story Contest entries that we receive each year are both stunning and inspirational," said NanaWall Systems CEO Ebrahim Nana. "We appreciate all of our clients' positivity, loyalty and creativity, and we look forward to showcasing the innovative projects from this year's winners."
TWEET THIS: 6 innovative @NanaWall projects win the 2015 Photo Story Contest! See who won: http://bit.ly/1N3tmYu #nanawall #architecture
The contest invited architects, designers, contractors and homeowners to submit their personal NanaWall projects for the opportunity to be featured on the NanaWall website and blog, in future idea books and potentially showcased in future national advertising campaigns. Winners were selected from a competitive pool of submissions segmented into the following categories: Extreme, Commercial, Commercial Interior, Interior Remodel, Pool House and Residential.
Applicants explained how the bifold doors were incorporated into their residential or commercial projects, exceeding their design visions and allowing unique or difficult architectural spaces to become a reality. A new "Extreme" category was added this year to showcase the durability of NanaWall in extreme weather conditions such as hurricanes or subzero winters. One winner shares their story from Baja California, Mexico, where the NanaWall faced a Category 4 hurricane, Hurricane Odile, only two months after installation.
"Not surprisingly, the 140 mph winds and intense rain were not a problem for this Wall," said Juan Diego Perez, Photo Story Contest Winner in the Extreme category.
To learn more about the winning projects visit: http://www.nanawall.com/photo-story-contest-2015. For more information on NanaWall, visit nanawall.com.
# # #
Media Notes
Related Links:
NanaWall Systems Photo Story Contest Winners
NanaWall Systems website
About NanaWall Systems
NanaWall Systems redefined the category of opening glass wall systems. During its 25-plus years in business, the company has earned the trust of architects, builders, design professionals and homeowners as a solutions provider for re-imagining how buildings, people and the elements interact. By combining precision engineering and outstanding design options across more than 20 unique systems, NanaWall Systems advances design possibilities beyond the conventional for almost any space. NanaWall Systems is located in the San Francisco Bay Area, with 22 showroom and design studio locations across North America. NanaWall Systems is the exclusive North American partner of Solarlux Germany, the world leader in opening glass wall technology.