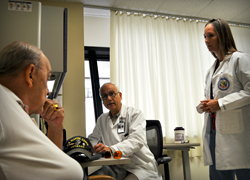 I really see our spine surgery program as icing on the cake for our pain program here at Bay Pines.
BAY PINES, FL (PRWEB) August 31, 2015
The Bay Pines VA Healthcare System (VAHCS) remains focused on providing accessible, high quality healthcare to Veterans residing across southwest Florida by hiring more doctors and nurses and expanding existing facilities and services. Spine surgery will soon be added to the list of expanded services.
In early July, Dr. Anthony Jabre was selected to lead and grow the Bay Pines VAHCS's new spine surgery program at the C.W. Bill Young VA Medical Center. Jabre, a neurosurgeon with nearly 30 years of experience in the public and private sectors, began seeing patients on an outpatient basis about six weeks ago.
Prior to coming to Bay Pines, Jabre was the attending neurosurgeon for the VA Boston Healthcare System. He received his medical degree in 1978 from Saint Joseph University in Lebanon and completed his neurosurgical residency at the University of Cincinnati Hospitals in 1985. Jabre also completed neurosurgical fellowships at the National Hospital in London, England and University Hospital in Zurich, Switzerland and is also a Fellow of the American College of Surgeons.
In addition to seeing patients routinely for outpatient appointments, Jabre said he expects to begin performing surgical interventions by the end of the calendar year for patients suffering from degenerative disc disease - a condition in which pain is caused from a damaged disc in the spine.
"I view my role as part of a larger, multidisciplinary team focused on providing treatment options for Veterans experiencing neck and back pain," Jabre said. "The option of spine surgery will soon be added to the variety of services offered at the medical center."
Dr. Dominique A. Thuriere, the healthcare system's Chief of Staff, noted that Jabre will help enrich the range of treatment options for Veterans experiencing back pain with a focus on improved physical function.
"I really see our spine surgery program as icing on the cake for our pain program here at Bay Pines," Thuriere said. "While we have always been able to provide this level of care for Veterans through community providers, the establishment of an in-house program improves health care continuity and access to pain management services."
Over the last several years, she said, the healthcare system has been working to build holistic pain program through the use of a biopsychosocial model of pain management in which all aspects of a Veteran's health and well-being are addressed.
To support this approach to pain management, she said, the organization uses a stepped model known as the "Veterans Health Administration (VHA) Stepped Care Model for Pain Management." The three steps in this model include primary care; secondary consultation with pain specialists; and tertiary, interdisciplinary care available through specialized pain centers.
"For each Veteran, the necessary combination of therapies and interventions used to manage pain are different, and based on individual need," Thuriere explained. "It is not acceptable nor is it safe to merely prescribe pain medications to dull pain. Our focus is to help our patients manage pain appropriately and regain function while improving quality of life."
Thuriere said she expects the organization will pursue accreditation of its budding pain management program in the future.
"While it is not required, accreditation of our program would signify that we meet the highest level of quality standards and also reinforce our commitment to our rehabilitative and comprehensive approach to pain care for America's Veterans," she said.
"I believe we are definitely headed in that direction."
About the Bay Pines VA Healthcare System
The Bay Pines VAHCS is one of the nation's leading VA healthcare systems, employing more than 4,000 medical professionals and support staff dedicated to providing the very best care to Veterans residing in southwest Florida. The organization is the fourth busiest VA health care system in the country in terms of patients served and is accredited by The Joint Commission, Commission on Accreditation of Rehabilitation Facilities, and several other nationally recognized accrediting organizations. The Bay Pines VAHCS operates nine facilities to include the main medical center located in Bay Pines and outpatient clinics located in Bradenton, Cape Coral, Naples, Palm Harbor, Port Charlotte, Sarasota, St. Petersburg, and Sebring. To learn more, please visit http://www.baypines.va.gov or like us on Facebook at http://www.facebook.com/vabaypines.