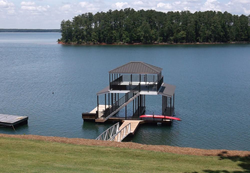 Says Wahoo Docks VP Scott Livingston, "Congrats to Todd & Lamar Wade on another fantastic dock! Lake living and lifestyle do not get any better than this!"
(PRWEB) August 31, 2015
Wahoo Docks, a leading aluminum boat dock manufacturer, recently announced their July Wahoo Dock of the Month winner—the "Newton Dock" in South Carolina. This boat dock was designed and built by Wahoo Docks at the Lakes.
Each month, Wahoo Docks dealers submit completed dock projects for the Dock Of The Month accolade, and a winner is selected based on a combination of features, such as; color palette and materials, design features such as layout, roof, and decking used, and quality of construction.
Says Wahoo Docks VP Scott Livingston, "Congrats to Todd & Lamar Wade on another fantastic dock! Lake living and lifestyle do not get any better than this!"
The Newton dock, which is now featured on the Wahoo Docks website, has a 60-foot gangway leading to a 20-foot walkout. Slip angles were added for strength, and to provide a welcoming entrance.
The lower level is decked in Ironwood, while the upper deck is covered with granite-colored AridDek aluminum decking boards, supplied by Wahoo Docks' sister company, Wahoo Decks.
Approximately half the upper deck of the Newton dock is covered with an upper deck shade that is both attractive and practical.
The roof color is Patrician Bronze and the railing, as well as the roof supports, are Antique Bronze. Accessories include two Ironwood (Ipe) dock boxes, two five-foot swim ladders, and a kayak rack. Additional information about the Wahoo Dock of the Month for July, the Newton Dock, can be found on the Wahoo Docks website: http://wahoodocks.com/portfolio_item/dock-of-the-month-july-2015-wahoo-docks-at-the-lakes/
About Wahoo Docks
Headquartered in Gainesville, Georgia, Wahoo is the largest builder of residential boat docks in North America, represented by a network of dealers that embody the most talented dock professionals in the industry. Wahoo sells its residential docks exclusively through this network and manages commercial dock projects from its headquarters in northeast Georgia. Wahoo Docks is recognized for building the highest-quality dock systems available, with an emphasis on strength and durability, aesthetic appeal, and ease of maintenance.