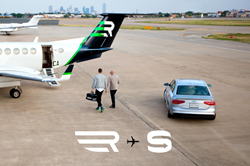 We look forward to introducing Rise customers to our award-winning service and also exposing our customer base to a like-minded brand like Rise.
Austin, TX (PRWEB) September 02, 2015
Silvercar is pleased to announce a new partnership with private fly service company Rise to offer its award-winning all-Audi car rental service to members at a special rate, when they fly into either Austin or Dallas.
Like Silvercar, Rise has become recognized for its comfort, convenience and overall cost-effective service. The new Silvercar partnership will act as an extension of this value, offering Rise members an introductory Silvercar rate of just $49.99 per day through September 30th. Now after landing, Rise members can simply step off the plane and hop into a silver Audi A4, always fully loaded with in dash navigation, in car Wi-Fi and Sirius Radio.
Silvercar customers can also benefit from the new partnership. Through September 30th, Rise is offering new customers a special introductory discount of 50% of the initial $750 initiation fee to become a Rise member. Simply enter your Silvercar membership number to redeem.
"Both Rise and Silvercar customers are looking for ways to travel better, making this an ideal partnership," said Silvercar Vice President of Marketing Russ Lemmer. "We look forward to introducing Rise customers to our award-winning service and also exposing our customer base to a like-minded brand like Rise."
"I remember the first time I was introduced to Silvercar. What a great concept – eliminate the hassles of car rental and drive an Audi for about the same price as other car rentals. Partnering with Silvercar makes perfect sense for our members who value their time and want to drive the way they fly," stated Rise co-founder and CGO Clynt Taylor.
The Silvercar/Rise experience allows members to reserve a car with a few taps on the Silvercar app, enjoy a comfortable flight on a private plane, and then step off and right into a fully loaded Audi A4.
About Silvercar
Founded with a mission to eliminate typical frustrations and points of friction that have plagued its industry for decades, Silvercar is paving the way for the future of car rentals. The company's seamless car rental business—offering ONLY fully loaded silver Audis—eliminates lines, counters, paperwork, and hassles by delivering the entire experience through an easy-to-use mobile app and friendly concierge service. Silvercar is continually earning the highest customer satisfaction and loyalty scores in the industry and is currently offering service in five of the six busiest car rental markets in the U.S. (SFO, DEN, LAX, MIA, PHX as well as DFW, DAL, FLL, AUS ORD and NY at The McCarren Hotel & Pool through Labor Day Weekend.) To learn more, download the Silvercar app and/or visit Silvercar.com.
About Rise
Rise is a Dallas, Texas based air travel membership company founded to serve the needs of frequent air travelers who appreciate the private air travel experience without the high costs of private plane ownership. Rise currently offers service in Austin, Dallas and Houston. Visit http://www.iflyrise.com for more information.