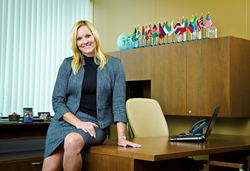 This award acknowledges our dedication to the principle of diversity and equality in the workplace and serves as an affirmation of our commitment to provide exceptional staffing and training to all our customers throughout the world."
Rochester Hills, Michigan (PRWEB) September 02, 2015
"It is truly an honor to be included in Corp! Magazine's Salute to Diversity," said Lori Blaker, CEO/President of TTi Global. "This award acknowledges our dedication to the principle of diversity and equality in the workplace and serves as an affirmation of our commitment to provide exceptional staffing and training to all our customers throughout the world."
Blaker will join other award winners at a Conference & Awards Breakfast, Thursday, September 10, 2015 at the MGM Grand in Detroit.
The Corp! Magazine Diversity Awards applaud companies and organizations throughout the state for their work advancing diversity causes, and honors businesses and business leaders who have displayed significant achievements in diversity within their organization or in the community.
About TTi Global
TTi Global provides staffing, learning, research and consulting solutions to industries across various sectors with automotive as a core focus. TTi Global oversees operations on five continents with offices spanning the globe, which include Australia, Brazil, Canada, Chile, China, India, Japan, Mexico, Peru, South Africa, Thailand, Venezuela, UK and Afghanistan.
With a staff of over 2000 employees in international operations, they offer a wide range of services, tailor made to drive business goals, including business consulting, research, staffing, workforce development and learning solutions. TTi Global world headquarters are located in Rochester Hills, Michigan.
Contact: Nancy Thompson 248-496-4965 uptownpro(at)hotmail(dot)com