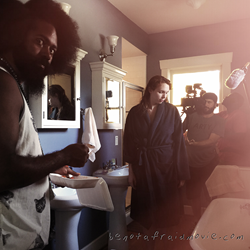 Taylor Gahm is a seasoned storyteller with credits such as TED, Creative Mornings, and stand-up comedy at the Improv Comedy Club.
HOUSTON, TX (PRWEB) September 02, 2015
Award-winning short filmmaker Taylor Gahm has released the teaser trailer for his debut feature length film Be Not Afraid!, a dramatic comedy based on his TED talks, "The Gift of Inadequacy."
The trailer can be viewed at http://www.benotafraidmovie.com.
Gahm is a seasoned storyteller with credits such as TED talks, Creative Mornings, and stand-up comedy at the Improv Comedy Club. Gahm said he has wanted to make a feature length film for over a decade, and "with the success of his TED talk, the time felt right to go for it." 
Be Not Afraid! was shot over 18 days in May and June of 2015, covering 20 locations—all of them within Gahm's hometown of Houston, Texas, where he has been a constant fixture in the Houston art scene over the last 13 years. Gahm was very intentional about making a quality independent film that was very much Houston. 
"I didn't have the budget to shoot New York or Los Angeles, and it would have been impossible to make Houston look like either of those places." Gahm said. "And why would I want to try to make Houston look like somewhere else? I love both of those cities, but Houston is where I'm from and what I know. I wanted to make a film that showcased the city I am from and love."
Gahm held to his word by not only shooting in Houston but showcasing it on screen by shooting some very Houston-specific locations such as the Houston Ballet, Shipley Do-nuts, Tacos a GoGo, Sabine St bridge, as well as various breathtaking skyline shots of downtown. 
Gahm's commitment to representing his hometown extended beyond the scenery with his casting and hiring of an ethnically diverse cast and crew. "Houston is a melting pot of cultures and people. Diversity was such a natural element in and around the movie, so it required very little effort to make sure that was reflected onscreen," Gahm explained. 
After nearly 700 audition submissions, and with the help of one of Houston's premiere casting agencies, Gahm locked in his dream cast comprised of the best acting and improvisation talent Houston has to offer.
The process of making the film was a city-wide collaboration. Gahm crowdsourced much of what he needed in regard to props, locations, personnel and more by setting up a simple Google form and promoting it through his friends at Creative Mornings HOU, the Houston chapter of an international arts-based monthly breakfast lecture series.
"I was blown away by how many people came forward," said Gahm. "There were associate producers that volunteered full-time for over a month! Complete strangers that let us shoot in their homes for an entire weekend! It truly was a Houston-made film. I can't believe the caliber of talent and level of commitment that I found by simply putting the word out that I was making a movie and needed help. This is such a cool city."
Gahm's extensive credits in film production and stand-up comedy certainly lent to his credibility when recruiting for help. 
Be Not Afraid! is a dramatic comedy in the vein of what Gahm describes as It's a Wonderful Life meets Dumb and Dumber. 
According to the film's logline, Be Not Afraid! is about a "gang of misfit angels sent to help a man whose personal and professional life is falling apart—but most of the time 'helping out' looks a lot like 'making things worse.'"
Be Not Afraid! was recently awarded the 2015 Houston Filmmaker Grant by the Houston Arts Alliance—a US $30,000 matching funds grant for a Houston filmmaker whose work shows excellence and promise in long-form narrative storytelling.
Gahm partnered with several major film industry companies such as Zacuto, Portabrace, Promise Technology, Red Giant and Atomos to bring the his vision to life. Sponsors of the film also include KIND, Buffalo Bayou Brewery and Smilebooth.
For more on the film and to see the teaser trailer, go to http://www.benotafraidmovie.com
###