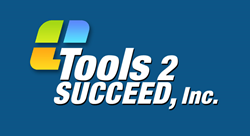 We are expanding our e-Learning library to include courses pre-approved for Global (International) credit through the Human Resources Certification Institute (HRCI).
Westlake Village, CA (PRWEB) August 31, 2015
"Effectively Managing Teams in India" is now available by subscription to the HRCI Global Credit package on the Tools 2 Succeed website. Students can obtain 1 HRCI Global credit by successfully completing the 1-hour course. A certificate with the pre-approved HRCI ID number is available instantly upon successful completion.
"Effectively Managing Teams in India" was developed by M. M. "Sath" Sathyanarayan, Principal, Sath Associates, LLC, and presented by Sheryl Tuchman, SPHR, Founder and CEO of Tools 2 Succeed, Inc.
This course looks at teams in India and focuses on cultural issues, communication, and motivation. It compares managing a team in the U.S. with managing an offshore team in India. The course includes examples of meetings in which an American manager believes he is communicating clearly but does not get results from an Indian team. Solutions are given to improve the communication and the scenario is then revisited. In working with an Indian team, it is especially important to align goals and values, be clear, consistent, set the context, ask specific questions, and be very specific regarding deadlines. In motivating an Indian team, the importance of individual skills, achievement and task-focus is stressed.
Learning Objectives include:
1. Understand Cultural Issues in India - norms, values, behaviors
2. Understand Communication Styles in India
3. Improve Communication on Teams in India
4. Assess and Augment Project Skills in India
5. Motivate Teams in India
The course has been pre-approved for 1 Global HRCI credit (previously called "International credit" through the Human Resources Certification Institute.
About Tools 2 Succeed, Inc.
Tools 2 Succeed provides business training, consulting, and coaching services to facilitate organizational growth and change. Services include onsite employee development training, leadership workshops, executive coaching, outplacement services, behavioral assessments, and an extensive offering of e-learning courses. They are a channel partner (reseller) of Skillsoft e-Learning and offer online courses ranging from leadership development to human resource management to project management. They offer Skillsoft courses for PMI PDUs. Tools 2 Succeed is an Approved Provider of the HR Certification Institute as well as the Society of Human Resource Management, offering low-cost programs for HRCI and SHRM recertification credit. They also offer e-Learning courses for PHR (Professional in Human Resources) and SPHR (Senior Professional in Human Resources) certification preparation. Tools 2 Succeed is based in Southern California and serves clients in 49 countries including all 50 United States, the U.S. Virgin Islands and Puerto Rico.
About Sath Associates, LLC
M.M. "Sath" Sathyanarayan has spent more than 20 years troubleshooting outsourcing problems, both as an in-house executive and as an independent advisor. He has dealt with projects that range from ground-up reorganizations to quick contract reviews, from complex vendor negotiations to technical productivity benchmarking. Mr. Sathyanarayan has literally "written the book" on offshore outsourcing for technology companies (Offshore Development & Technical Support: Proven Strategies and Tactics for Success). He specializes in turning around outsourcing and offshoring programs with problems.