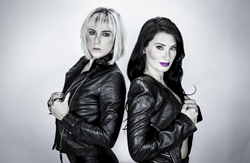 Having secured a solid Billboard Dance Chart position for STASH's "Strip Me Bare" track, PRO MOTION is both honored and eager to best the electro pop duo's debut dance single with the release of their new offering, "Time Bomb," Brad LeBeau (PRO MOTION)
Los Angeles, California (PRWEB) September 02, 2015
"Time Bomb" the latest dance music release from the Los Angeles-based female electro-pop duo, STASH has been remixed by British EDM producer, Ruff Loaderz and shipped out to club and dance DJ's across the US.
Responsible for remixing superstars' Rihanna, Beyonce, Jason Derulo, Katy Perry, Ellie Goulding, Kanye West and Justin Bieber, Julian Napolitano (aka Ruff Loaderz) started his production career in the early 90s at Britain's "Ouch Records" and was subsequently snatched up by "Cross Trax" dance label where he achieved commercial chart success in both the U.K and U.S.
In working on the new STASH single, Ruff Loaderz explains: "When approaching the 'Time Bomb' remix we wanted to maintain the amazing energy of the original, while taking it to a new place stylistically. The vocal was so strong we found the riffs and grooves fell into place almost instantly. Time Bomb is a really great track."
Additionally, the "danceSTASH" electro pop duo's "Strip Me Bare," EP, which is available domestically, is now being promoted to over 30,000 radio stations internationally through iPluggers. "All of us at iPluggers think that "Strip Me Bare" is the "Album Tip" for September," states Marvin Kuijs, founder of iPluggers.
The multi-talented L.A.- based STASH – consisting of DJ/rapper/songwriter Steph Prost and classically-trained singer, Amanda Maze recently partnered with DanceOn Network , and teamed up with three of DanceOn's top influencers to release a series of videos choreographed to STASH music this summer.
The first of three DanceOn videos to roll out earlier this summer was a clip for STASH's breakout hit "Tear Me Down" performed by top Korean dance group Waveya.
Following were two additional videos from the world-renowned choreographers Brinn Nicole ("Strip Me Bare") and Janelle Ginestra ("Red Cup! Pinky Up") both of which have received passionate viewer engagement. Brinn explains "I felt the "Strip Me Bare" track is about being hurt and "stripped bare" in a relationship, yet having friends who help get your over the hump through dancing and refueling with LIFE! So we enacted that in the video."
Ginestra felt the "Red Cup! Pinky Up" track was "fun and funky, just her vibe" and filmed the track in her condo portraying the track via partying, dancing, drinking, and just being wild.
DanceOn is an entertainment focused digital media company connecting music and pop culture through the universal language of dance. The network's more than three billion views, 20 million subscribers and 42 million fans across platforms showcase the influence of dance around music's viral moments. DanceOn was co-founded by CEO Amanda Taylor, Madonna, Guy Oseary, Machinima and Chairman Allen DeBevoise.
In support of the new STASH "Time Bomb" single, the president of PRO MOTION, Brad LeBeau recently remarked: "Having secured a solid Billboard Dance Chart position for STASH's 'Strip Me Bare' track, PRO MOTION is both honored and eager to best the band's debut dance single with the release of their new offering, 'Time Bomb."
Deb Bolner 210-824-7799
Deb(at)dancestash(dot)com
###