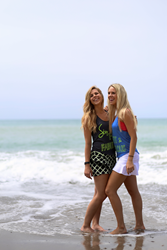 With The Ellison Sister's enthusiasm, high fashion style, and tennis industry knowledge…it was a natural collaboration to create a new point of view for fashion-on-the court. -Brad Singer (CEO, Lucky In Love)
San Juan Capistrano, California (PRWEB) September 09, 2015
Roxanne and Sierra Ellison, Hosts of Tennis Runway on the Tennis Channel have teamed up with the visionary designers of Lucky In Love to bring a new point of view to the sport that converges athletic tennis wear with a high-fashion edge. A winning collaboration, the Lucky In Love for The Ellison Sisters capsule lines debut for the Spring 2016 season.
In 2015, The Ellison Sisters easily transitioned from center court (as Professional Tennis Players) to center stage of the fashion world (as the Hosts and Co-Producers of Tennis Runway). As players, they achieved a #1 USA National Doubles Ranking as Juniors and went on to become top collegiate players at San Diego State and earn a World Ranking while playing on the Professional Tour. Off the court, Roxanne and Sierra have pursued successful careers in business and entertainment on both sides of the camera. For the Tennis Runway television series, they showcase their top style picks from the booming $35 billion Athleisure wear industry based on superior clothing technology, comfort and the latest fashion trends. They also have enjoyed providing motivational messages as featured speakers at conferences, tournaments and as the National Teen Spokespersons for Kathy Ireland's Charities. Now, as the Faces of Lucky In Love for The Ellison Sisters, the dynamic sister duo add their refreshing California vibe and stylish insight to fashion for the modern, active woman.
The Lucky in Love family story spans four decades and five generations of clothing manufacturers. In only five years time, their newest brand, Miami based Lucky In Love has outpaced competition and even its own expectations. Despite having launched in the middle of the recession, the family owned business goes on unrivaled, already making its way into more than 800 doors around the United States and now shipping to seven countries overseas. The Company has been redefining tennis fashion style by applying its unique, sunbelt flair and aesthetic to perfect fitting silhouettes for ladies and girls. Introducing trends to tennis and fashion to function, Lucky In Love pulls inspiration from the runway right onto the court, pairing fast fashion with something akin to court-side couture.
The Lucky In Love for The Ellison Sisters lines embody both the Lucky In Love and The Ellison Sisters brands. With the Sister's knowledge and love of the sport fused with Lucky In Love's extreme success in creating original innovative designs, the team was able to create apparel that offers functional and fashionable performance and style. The Spring 2016 tennis and athleisure lines ship January 15th and March 1st and feature: jackets, skirts, tops, dresses, singlets, sports bras, shorts and leggings.
For more information: http://www.TennisRunway.com and http://www.TheEllisonSisters.com
Interview Opportunities:
Roxanne and Sierra Ellison, Tennis Runway Hosts & Co-Collaborators of Lucky In Love for The Ellison Sisters
Brad Singer, CEO of Lucky In Love, Inc.