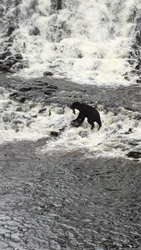 Ketchikan, Alaska (PRWEB) August 31, 2015
Every August, pink (Humpback) salmon migrate upstream during Waterfall Resort's Waterfall Creek Salmon Run to spawn at the property's namesake waterfall, attracting hungry black bears and captivating guests with authentic wildlife experiences as they watch the bears feed in the wild.
Set in the pristine Alaskan wilderness, the resort's expert guides help novice and experienced anglers alike reel in more than 20 varieties of fish during daily excursions at legendary fishing spots in Southeast Alaska. This unparalleled experience combined with breathtaking wildlife viewings, all-inclusive and historic setting on 52 oceanfront acres on Prince of Wales Island make for an unforgettable adventure year after year.
To book a stay and experience unforgettable wildlife sightings, call 800-544-5125 or visit http://www.WaterfallResort.com.
About The Waterfall Group
Leaders in adventure hospitality management on land, on the water and in the air, The Waterfall Group delivers extraordinary outdoor lifestyle experiences featuring unique and scenic destinations, marine and aviation expertise, satisfying local cuisine, easy travel and warm, friendly customer service. Founded in 1980, The Waterfall Group markets, operates and supports multiple lines of business nationally from all-inclusive Alaska sport fishing lodges to sea plane tours in the Florida Keys.