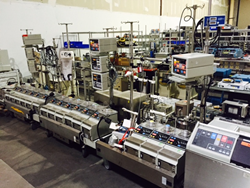 North Las Vegas, NV (PRWEB) September 02, 2015
Based in Chicago, and with locations in Las Vegas and Fort Lauderdale, CENTURION SERVICE GROUP is internationally known as an industry leader specializing in surplus used medical equipment auctions. They are rated the largest medical auction house in the world, selling more than 100,000 pieces of medical equipment every year. Erik Tivin, Chairman and CEO, is regarded as one of the most experienced medical equipment auctioneers and appraisers in the medical surplus industry. His entrepreneurial efforts have continued to expand in the last 20 years, and he serves as an executive on the Board of Directors of the Industrial Auctioneers Association. He is also known for his charitable spirit which led him to create the Centurion Medical Foundation, a 501C3 not-for-profit foundation with the specific intent of donating matching dollars to charities of our Seller's choice. To find out more please visit "Our Foundation" page now!
Whether it is your first time bidding at an auction, or you are a long-time customer, they offer resources that will assist you during different steps of the auction process. They want their customers to feel well-informed and confident before participating in any of their auctions. To get free tips on becoming an expert buyer click here now!
The auction will take place in Las Vegas on Thursday, September 3 starting at 9:00 am CDT. Registration information and the complete list of medical equipment can be found at REGISTER HERE!
A few highlights of the sale are: Terumo/Sarns 8000 Blood Perfusion System, Wild Heerbrugg M691 Surgical Microscope with Dual Face to Face Binoculars with Eyepieces (All 10X/21) Bottom Lense (F=300MM) and Multi-Function Footswitch,
Drager Narkomed GS Anesthesia Machine, plus stretchers, obstetrics, infusion, anesthesiology, surgery equipment and more. To view the complete list of highlights click HIGHLIGHTS!
For more information on this auction or upcoming auctions, please visit http://www.centurionservice.com or contact us at info(at)centurionservice(dot)com.