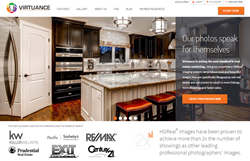 This site lays the groundwork for continuing to improve our client experience by saving agents valuable time when placing and modifying orders online.
Denver, Colorado (PRWEB) September 02, 2015
Virtuance, one of the nation's leading real estate photography providers, has completely overhauled its website at http://www.virtuance.com. The updated website provides users with the most advanced and user-friendly online experience in the industry. The website makes ordering Virtuance marketing services faster and easier than ever, while ensuring absolute accuracy throughout the order process. Clients ordering the company's flagship HDReal® imagery will experience the easiest order process in the industry.
The website's enhancements include:

The ability for users to view their complete order history; ultimately allowing clients to make modifications to their orders directly through their online account.
Enhanced billing options allowing for multiple credit cards on file so that agents can select different payment methods for different properties.
Overhauled image gallery allows users to select specific types of properties to review and better inform their choices. Whether a property is vacant, a small apartment or luxury home, agents can see how similar properties were marketed before placing an order.
Robust FAQ and Tutorials, to ensure clients have information at their fingertips when they need it.
"This is a major milestone for Virtuance," says Jeff Corn, Virtuance's co-founder and CEO. "Providing clients with exceptional service is at the core of what we do, so we're especially excited to be able to offer leading-edge functionalities and increased client efficiency with this robust new site."
Over the coming months, Virtuance will streamline the ordering process even further, allowing clients to see online photographer availability, so they can place and confirm orders in real time.
"We know that real estate agents are incredibly busy people," says Amanda Jung, Virtuance's Client Services Manager. "This site lays the groundwork for continuing to improve our client experience by saving agents valuable time when placing and modifying orders online."
Virtuance sets a new standard for quality and consistency in the way properties are marketed that also provides great value for agents. Properties marketed with the award-winning HDReal® Imaging System sell on average 45% faster and 75% closer to the asking price as compared to properties marketed with other similarly priced solutions.
Virtuance currently offers HDReal® photography and marketing services in 11 major U.S. metropolitan areas, with plans to continue its expansion into new markets across the country.
About Virtuance
Based in Denver, Virtuance was founded in 2010 and is one of the fastest growing real estate photography companies in the world. Virtuance is the creator of HDReal®, an award winning proprietary imaging system designed specifically to market real estate. Using artificially intelligent automated algorithms and highly trained HDReal®-certified photographers, Virtuance produces real estate marketing images that are proven to drive online traffic and result in conversions through more inquiries and property showings. Virtuance supports the HDReal® system with a comprehensive array of marketing tools and platforms.