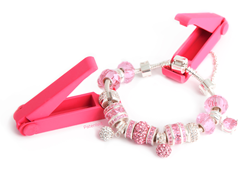 The Charm Opener is known as the little pink wonder that saves time, frustration, and manicures
Los Angeles, California –
September 8, 2015 -- (PRWEB) September 08, 2015 -- Caterina Jewelry is pleased to announce that the United States Patent & Trademark office has granted a patent for their unique design, the Charm Opener. Worldwide protection is being further sought out through the Patent Cooperation Treaty (PCT). The much-needed tool was created to facilitate the often challenging job of opening all kinds of charm jewelry. Unclasping charm bracelets, necklaces, safety chains and locked beads can now be done in a snap thanks to the very user-friendly Charm Opener. This ingenious device is the only tool in the market that easily opens bracelets while they are still being worn on the wrist.
With a simple operation, the Charm Opener pops beads open by separating the edges of the seam where the charm or clasp seal closed. All it takes is a quick press of the Charm Opener to get all types of charms and clip beads unfastened. The Charm Opener is gentle on jewelry and prevents any damage that could be inflicted on delicate charms, locked beads, and safety chains by other sharper tools or materials.
The Charm Opener is not only made for the Caterina Jewelry brand, but works on all brands and styles of charm bracelets and necklaces. It has been very well received in the United States, and will be available in Europe by this fall. Caterina Jewelry is now looking to expand abroad by working with international distribution companies.
Charm jewelry is now a growing trend among countless women in North America. But, frequently many have complained about how difficult it can be to get the charms and lock beads opened. To remedy the problem, jewelry designers, Cathy Barouch and Lara Korhammer created the Charm Opener. "The Charm Opener is known as the little pink wonder that saves time, frustration, and manicures," Barouch said.
Adding charms and beads to commemorate special memories or favorite things is the highlight of charm jewelry, so being able to easily open them is always a great asset. The Charm Opener makes adding or changing charms a breeze and takes the fun of charm jewelry to the highest level.
The newly patented Charm Opener opens all types of charm jewelry and retails for $25. It is now available in several jewelry stores across the U.S., as well as to the general public on http://www.caterinajewelry.com. A video that shows how the Charm Opener works can be seen at http://www.charmopener.com.