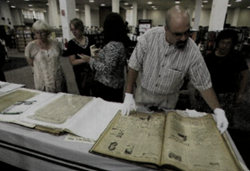 It's kind of like having Facebook 100 years ago.
East Brunswick, NJ (PRWEB) August 31, 2015
Digital Memory Media (DMM), a division of Innovative Document Imaging, began working with local libraries and organizations several years ago in an effort to preserve their history by digitizing old, deteriorating media and documents.
John McCormack, Mayor of Woodbridge, N.J. says of the work DMM has done at the Woodbridge Public Library, "It's kind of like having Facebook 100 years ago." The archives that DMM restored contained newspapers dating as far back as 1876, marking a definitive step towards not only preserving decades of history but putting that information at the fingertips of local residents as well. Wendi Rottweiler, research librarian, says "As a local historical librarian, I get geology requests from all over the country, let alone all over the world. Now anyone curious about their family's heritage in Northern Middlesex County can search the archive." She adds, "A huge section of New Jersey history would be lost forever without the effort."
At Matawan-Aberdeen Public Library, DMM worked to digitize their hometown newspaper dating back to March 1972. Kimberly Paone, library director states "It's fully operational and it's fully searchable, which is a wonderful detail. People are definitely using it. I'm receiving comments and compliments about the search engine, and just having access to that information is really helpful for our community."
Thanks to DMM, the Watertown Historical Society has a digital archive comprised of over one century of newspapers, 93 years of Watertown High School yearbooks, and 11 historic Watertown scrapbooks. The entire archive is keyword searchable using Optical Character Recognition software called "Digi-Find It." "The preservation, understanding, and acknowledgement of local history is important to Watertown," says Town Manager Chuck Frigon. "There is not a day I do not look at the past for counsel when considering current policy. This is a wonderful undertaking by the Watertown Historical Society."
Digitizing these old, priceless records not only allows people to view the documents online from the comfort of their own home, but it also allows for keyword searching. This means that instead of scrolling through endless reels of microfilm, one can simply search for exactly for what he or she is looking.
For more information go to http://www.dmmem.com. Questions can be sent via the contact form on the website or by calling toll-free at 800-380-9050 or 732-613-7170.