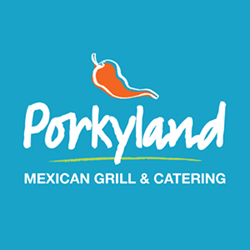 Free Mini Taco at the Door on the restaurants first Taco Tuesday! September 1st from 4pm-6pm.
San Diego, CA (PRWEB) September 01, 2015
The highly anticipated Porkyland Mexican restaurant has just opened its doors in Carmel Valley! This will mark the second Porkyland location for the Mexican food chain in San Diego, CA and the first to open in the Carmel Valley neighborhood.
An award winning carnitas and catering shop that has been open since the 1980s, Porkyland's local roots are in Barrio Logan. In the 1990s, Porkyland moved to La Jolla and quickly became a highly acclaimed staple in the downtown La Jolla community.
Building out the new location in Carmel Valley is a purely organic response to the local demand for Porkyland and its catering. The communities of Del Mar, Solana Beach and the corporate campuses in Sorrento Valley have been keeping the Porkyland of La Jolla very busy. Our Carmel Valley store is ready to meet this growing demand in the North County.
From humble beginnings making fresh tortillas in the original Barrio Logan taco shop, Porkyland's menu has greatly expanded to include many healthy Mexican foods that keep customers returning for more. Enjoy all the classic Mexican food favorites from enchiladas to tacos and burritos. Or be adventurous and try something totally unique created special at Porkyland. The Queso taco is a top favorite among our fans who love original options; this new Mexican dish is a quesadilla and a taco combined! Or try the Porky Signature Burrito with one whole Chile Relleno inside!
Porkyland catering services are there to also bring convenience to your corporate event or meeting in Sorrento Valley. Weddings along the coast line are also our specialty, bringing you some of the tastiest carnitas and Mexican food for your special day!
Porkyland's new location is at 4645 Carmel Mountain Rd Suite 201, San Diego, CA 92130 in the Torrey Hills Center shopping center. Our new phone number is (858) 925-6123. Our hours are 9:00 AM - 9:00 PM Monday - Sunday. The first Taco Tuesday on September 1st will start at 4:00 PM, ending at 6:00 PM and the first 100 people at the door will receive 1 free mini taco!