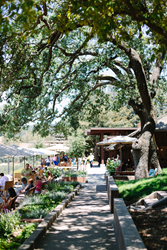 Following the renovation, visitors to the winery are offered an opportunity to explore and appreciate our wines in a more intimate, relaxed setting," said Bill Phelps, President of Joseph Phelps Vineyards.
St. Helena, CA (PRWEB) September 01, 2015
Joseph Phelps Vineyards is pleased to announce enhanced Exceptional Wine Experiences and private tastings at their newly renovated Napa Valley winery. Exceptional Wine Experiences range in topics from Insignia blending and an exploration of single vineyard wine production, to barrel aging Napa Valley Cabernet Sauvignon and a five vintage library tasting of Insignia. The winery also offers private tastings and hosted Terrace Tastings, all by prior appointment.
Beginning September 1, 2015, the highly anticipated 2012 Insignia will be included in all winery tasting experiences. 2012 Insignia is a blend of 75% Cabernet Sauvignon, 10% Petit Verdot, 10% Merlot, 3% Malbec and 2% Cabernet Franc from 100% estate-grown Napa Valley vineyards with a release price of $240 (750ml bottle). First produced from the 1974 vintage, Insignia was the first proprietary Bordeaux-style blend produced in California and is a Cabernet Sauvignon based wine crafted from six of the Joseph Phelps Napa Valley estate vineyards.
"Following the renovation, visitors to the winery are offered an opportunity to explore and appreciate our wines in a more intimate, relaxed setting," said Bill Phelps, President of Joseph Phelps Vineyards.
The Exceptional Wine Experiences available at Joseph Phelps include:

Insignia Blending: Play winemaker for the day and learn the art of blending different varieties to make the perfect wine. Smell, taste and experiment with blending six Insignia components, then taste and compare the blend with the current Insignia vintage.
Single Vineyards ~ A Taste of Place: This brand new experience explores the unique intersection of soil, microclimate, exposure and varietal selection in vineyards and vineyard-designated wines. This tasting includes six single-vineyard Joseph Phelps wines including Chardonnay and Pinot Noir from Pastorale and Quarter Moon Vineyards on the West Sonoma Coast, Syrah from Larry Hyde & Sons Vineyard in Carneros, Cabernet Sauvignon from Backus Vineyard in Oakville, Napa Valley and the current vintage of Insignia.
Barrel Aging Napa Valley Cabernet Sauvignon: Explore the role of a barrel in the development of a fine wine. In addition to current release Cabernets, taste four Cabernet Sauvignon samples aged in different barrels along with twelve aromas found in wines that are aged in barrels of diverse origin and toast levels.
Napa Valley Rocks: This experience explores the unique geological formations and climate where the renowned wine, Insignia, is grown and produced. Guests taste Cabernet Sauvignon from four estate vineyards in distinctly different Napa Valley sub-appellations while learning why Napa Valley's terroir is an important factor in determining Insignia's distinctive sense of place.
Wine Aroma Challenge: This experience puts guests' noses to the test identifying six white wine and six red wine aromas in a fun and interactive way. This is for anyone who wants to challenge their colleagues and sharpen their ability to identify aromas in wine.
Exceptional Wine Experiences are semi-private and last 90 minutes. They are held daily, by prior appointment, at 11:00 a.m. and 2:00 p.m. Cost: $100 per person.
Joseph Phelps Vineyards also offers two Limited Exceptional Wine Experiences:

Wine & Cheese Pairing: Offered every Friday, Saturday and Sunday morning at 11:00 a.m., Joseph Phelps hosts a guided wine tasting and pairing of cheeses, salumi, nuts, fruits and other delicacies. Guests experience how food and wine interact in concert or contrast with one another and discover their preferences. Cost: $100 per person.
Insignia: Past, Present & Future Tasting: Offered by prior request only, this experience offers a rare opportunity for a five vintage tasting of Insignia. Guests should call for information on vintages currently included in this tasting. Cost: $150 per person.
Terrace Tastings at Joseph Phelps Vineyards:
A personalized seated tasting overlooking the Joseph Phelps estate vineyards. Guests are offered a selection of the winery's current release Napa Valley and Sonoma Coast wines, including the latest vintage of Insignia. These tastings are offered Monday through Friday beginning at 10:00 a.m. with the last tasting beginning at 3:00 p.m. On Saturdays and Sundays, tastings begin at 10:00 a.m. with the last tasting beginning at 2:30 p.m. Cost: $75 per person.
Availability and Reservations
Joseph Phelps Vineyards is open by prior appointment only. Guests may call the winery at 800-707-5789 to schedule a visit. For more information on the available tasting experiences, visit josephphelps.com. Due to the nature of the tastings and to ensure an intimate experience, Joseph Phelps Vineyards does not allow anyone under the age of 21, which includes infants and children. Should guests be traveling with infants and/or children under 21, please call ahead to discuss tasting options in a private room.
About the Newly Renovated Joseph Phelps Winery Building
The original Joseph Phelps winery building, designed in 1973 by renowned architect John Marsh Davis, re-opened in May 2015 following an extensive sixteen month renovation. The Phelps family and executive team commissioned award-winning firms Baldauf Catton Von Eckartsberg (BCV) Architects and Brandenburger Associates AIA to repurpose the interior spaces and enhance the guest experience, while maintaining the building's historical aspects.
About Joseph Phelps Vineyards
Joseph Phelps Vineyards is a family-owned winery committed to crafting world class, estate-grown wines. Founded in 1973 when Joe Phelps purchased a former cattle ranch near St. Helena in the Napa Valley, the winery now controls and farms nearly 375 acres of vines on eight estate vineyards in St. Helena, the Stags Leap District, Oakville, Rutherford, Oak Knoll District, Carneros and South Napa Valley. In 1999, the Phelps family added 100 acres of vineyard property near the town of Freestone on the Sonoma Coast, where Phelps now grows Pinot Noir and Chardonnay. Phelps is best known for its flagship Napa Valley blend of red Bordeaux varieties, Insignia, first produced in 1974. Awarded Wine Spectator's "Wine of the Year" in 2005, Insignia is widely regarded as a qualitative benchmark for California winemaking. Visit online at josephphelps.com, on Twitter, Facebook, Instagram, Pinterest, Flickr and YouTube @JosephPhelps.