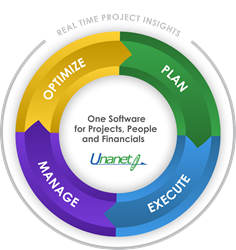 Dulles, VA (PRWEB) August 31, 2015
Unanet, a developer of software that helps project-driven organizations manage projects, people and financials in one integrated system, has announced it is a Premier Sponsor of the Dynamics SL Users Group Conference in San Antonio, TX from September 16-18.
The conference, which will be held at the San Antonio Marriott Rivercenter, will attract almost 500 attendees from across the nation.
Unanet's President and COO, Chris Craig, will present a Deep Dive session on Wednesday, September 16, 1:30-3:00 PM and again on Thursday, September 17, 3:30-4:30 PM. His session is on Augmenting Dynamics SL with Unanet Real-Time Project & Resource Management via People Scheduling & Skills Tracking, Budgeting & Planning, Time & Expense Reporting, Billing & Revenue Recognition, Project Documents, and Real-Time Project Reporting & Management Dashboards.
Over 1,000 project-driven organizations depend on Unanet to deliver expected outcomes for increased productivity and profitability. Unanet's one database provides Management Consultants, IT Consultants, Engineering Firms, Government Contractors, Non-Profits, Digital Agencies, Accounting Firms, and other project-focused organizations with a "Single Source of Truth". Unanet provides a variety of dashboards and metrics related to Project Profitability/Revenue/Costs, Employee Utilization (Historical & Actual), Task Actual vs. Budget, Percent Complete, Earned Value, What If analysis, etc. that enable customers to focus on transforming their business rather than transacting manual processes to compile information.
Unanet is seamlessly integrated with Microsoft Dynamics SL via SLConnect, ensuring that the SL-Unanet solution delivers real-time insights and results for customers. Unanet provides a proven and robust alternative for Web Apps as customers upgrade to SL2015.
Unanet will be at Booth 30 to give live demos and answer any questions. In addition, Unanet is hosting a happy hour reception on Tuesday, September 15 for customers, future customers, and its partners.
About Unanet:
Unanet is a leading provider of Cloud or On-Premise software for project-based organizations. Unanet delivers skills management, resource planning, budgeting & forecasting, time & expense reporting, billing & revenue recognition, and project management reporting. Over 1,000 organizations rely on Unanet to maximize staff utilization, reduce administrative costs by 90%, improve invoicing by 10X, and support forward decision-making for improved operations.