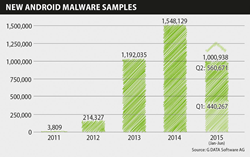 Atlanta, GA (PRWEB) September 01, 2015
Over 190.3 million people in the U.S. own smartphones, but many do not know exactly what a mobile device can disclose to third parties about its owner. Following their findings in 2014 that the Star N9500 smartphone was embedded with extensive espionage functions, G DATA security experts have continued the investigation and found that over 26 models from some well-known manufacturers have pre-installed spyware in the firmware. However, unlike the Star devices, the researchers suspect middlemen to be behind this, modifying the device software to steal user data and inject their own advertising to earn money. Today, G DATA is releasing their Q2 2015 Mobile Malware Report, which discusses these findings as well as analyzes mobile malware samples found over the past quarter.
"An estimated 2.5 billion people worldwide use a smartphone or tablet to go online. Chatting, surfing and shopping are possible anytime, anywhere thanks to smartphones and tablets. At the same time, the number of mobile malware apps has sharply increased in the past three years," says Christian Geschkat, G DATA Mobile Solutions Product Manager. "Over the past year we have seen a significant increase in devices that are equipped with firmware-level spyware and malware out of the box which can take a wide range of unwanted and unknown actions including accessing the Internet, read and send text messages, install apps, access contact lists, obtain location data and more - all which can do detrimental damage."
New Record: over a million new Android malware strains in six months
During the second quarter of 2015, the experts analysed 6,100 new malware samples every day. By comparison, in the first quarter of 2015, they saw about 4,900 malware apps per day, representing an increase of almost 25 percent quarter over quarter.
Additionally, the first six months of 2015 has already broken all previous malware records – over a million new Android malware strains (1,000,938) were discovered within just six months. In those six months, the analysts have already discovered almost as many Android malware instances as in the whole of 2013.
G DATA estimates that there will be over two million new malware apps by the end of the year.
Further forecasts
-Year of records: In the second half of 2015, G DATA security experts expect yet another significant increase in Android malware instances. A figure of over 2 million new Android malware strains for the year is likely, which would set a new record.
-Android malware is becoming more refined: Hacking Team, an IT company that develops a wide range of malware for intelligence services and governments, suffered a cyber attack this year. After this attack, corporate data and source code for an Android malware strain were published. G DATA security experts expect cyber criminals to exploit this easily accessible knowledge base and publish large numbers of more mature Android malware.
The G DATA Mobile Malware Report is available online at https://secure.gd/dl-us-mmwr201502
About G DATA
IT security was invented in Germany: G DATA Software AG is the antivirus pioneer. It was more than 28 years ago that the company, founded in Bochum in 1985, developed the first program to combat computer viruses. These days, G DATA is one of the world's leading providers of IT security solutions.
Test results prove that IT security "Made in Germany" offers Internet users the best possible protection. Stiftung Warentest has been testing Internet security products since 2005. In all seven tests performed between 2005 and 2014, G DATA achieved the best virus detection rate. In comparative tests by AV-TEST, G DATA regularly demonstrates the best results in the detection of computer malware. Internationally, G DATA INTERNET SECURITY has also been awarded best Internet security package by independent consumer magazines – in countries such as Australia, Austria, Belgium, France, Italy, the Netherlands, Spain and the USA.
The product range comprises security solutions for end customers as well as medium to large-sized enterprises. G DATA security solutions are available in more than 90 countries worldwide.
For more information about the company and G DATA security solutions, see http://www.gdata-software.com.
U.S. Media Contact:
Merritt Group
703.390.1512
gdata(at)merrittgrp(dot)com