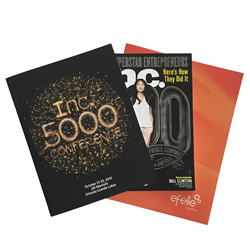 Seattle, WA. (PRWEB) September 01, 2015
Seattle-based efelle creative has been named one of Inc. magazine's Inc. 5000, an exclusive ranking of the nation's fastest-growing private companies. For 34 years, the Inc. 5000 has represented the most comprehensive look at independent entrepreneurs, one of the most important segments of the economy.
Founded in 2005 by Fred Lebhart and business partner Corne' de Leeuw, efelle has grown in leaps and bounds during the last 10 years, adding dozens of jobs and servicing more than 600 clients.
"We're truly honored to be recognized as one of the country's fastest growing companies," said Fred Lebhart, founding principal and executive director at efelle creative. "Since 2006, efelle has experienced rapid growth thanks to the contributions of our team and the partnerships we've built with our clients. Our philosophy is to deliver an unparalleled full-service experience, driven by strategy, results and our clients' continued success; our team's commitment to clients' success has been critical in driving efelle's growth, year-over-year."
With a three-year sales growth of 182% and a total revenue of $2.1 million, efelle's ranking in the Inc. 5000 means it's not only one of the fastest-growing companies in Seattle—it's also one of the fastest in the country.
"The story of this year's Inc. 5000 is the story of great leadership. In an incredibly competitive business landscape, it takes something extraordinary to take your company to the top," said Inc. President and Editor-In-Chief Eric Schurenberg, who called the success of the companies on the list "mind-boggling."
Previous Inc. 5000 honorees include GoPro, Microsoft, Zappos, Zillow, Jamba Juice, and Oracle.
efelle is proud to have been named one of the Inc. 5000, and will continue to put clients first in the spirit of tenacity, creativity, and perseverance.
About efelle:
efelle creative is an award-winning digital agency based in Seattle, WA USA. We offer a broad range of online marketing services including web design, web development, ecommerce services, SEO services, email marketing, and cloud hosting. Founded in Seattle in 2005, efelle is a one-stop shop for small to medium businesses interested in improving their business via online marketing. With 38 full-time employees servicing over 600 clients across the country and even internationally, efelle is one of the fastest-growing private companies in the country. Contact us to learn more!