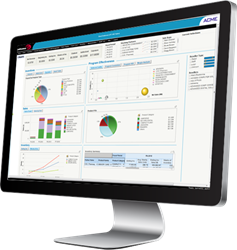 Entomo has helped us optimize our business.
Seattle, WA (PRWEB) September 01, 2015
Entomo Inc., a leading provider of channel management software and services, today announced the general availability of its new Channel Business Intelligence module. This module provides technology companies with powerful visualization tools to conduct business discovery and trend analysis, support strategic planning and better decision-making, and more. Using Entomo, companies have a powerful solution to help plug revenue leaks and other recurring hits to profitability.
"We've been using this as our primary source for channel business intelligence and discovery," said Sushama Gokhale, Director, IPP Worldwide Operations, Dolby Labs. "We have all of our forecast and actual transaction data in one system of truth, allowing greater cooperation and collaboration between the compliance, finance and sales groups. Entomo has helped us optimize our business."
The Channel Business Intelligence module is integrated seamlessly within the industry-leading Entomo SmartHub® platform. The result is a uniquely transparent system that consolidates transactional, operational, collaborative, financial and BI channel management activities.
Highlights of the Channel BI Module include:

Purpose-built for the channel
Configurable dashboards
Geospatial visualization
Business discovery and trend analysis
Event correlation
On-demand drill-downs
Associative filtering
Ad hoc search capabilities
Real-time access to channel transactional data – no delay-inducing ETL processes
In-memory architecture for instantaneous updates
"We've developed the channel business intelligence solution over the course of 2 years based on intensive feedback and suggestions from our customers," said Sanjoy Chatterji, founder and CEO, Entomo. "Early response has been tremendous because we have even more clearly demonstrated the value of continuous innovation that has been the hallmark of Entomo's success."
About Entomo
Entomo is a leading provider of cloud-based channel management software and services. We help businesses effectively manage distribution channel complexity to maximize revenue, reduce costs, improve partner performance and collaboration and ensure compliance at all levels. Entomo's SmartHub® is the industry's most flexible, scalable, and comprehensive enterprise channel management platform, enabling automation and simplification of all channel-related workflows and processes. Entomo supports the channel management activities for global enterprises including Broadcom, Dolby Labs, Elo Touch Solutions, Keysight Technologies, Kingston Technology, Microsemi Corporation, OCZ Storage Solutions, Qorvo Inc., and Targus Corporation. Entomo is privately held and headquartered in Bellevue, Washington, with offices in the Silicon Valley, Asia, and Europe.