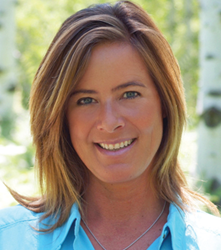 Beth brings excitement and enthusiasm to The Porches Sales Team, along with her 19 years of experience in resort real estate sales, marketing, master planning and development
Steamboat Springs, Colorado (PRWEB) September 02, 2015
The luxury townhomes called The Porches in Steamboat Springs, Colorado, have announced the addition of a new agent, Beth Postemski, to their real estate sales team. A Connecticut native, Beth came to Steamboat Springs in December, 1985 on a break from college. She quickly fell for the Yampa Valley Curse and never went back. She was introduced to the real estate profession in 1996, worked as a sales broker for the American Ski Company, and advanced quickly to become the Director of Sales. After completing that project, she became the Employing Broker for two other local developments: Sidney Peak Ranch and Ski Town Lifestyle Properties.
"I grew up with brothers and I had to learn quickly how to be effective and disciplined if I wanted to be heard," noted Beth Postemski. Thirty years of local knowledge and a passion to help connect people with their dreams has created the repeat business that makes her the success that she is today. Beth spends time focusing on her customers and acting as a guide with each individual to help them identify their needs and determine whether Steamboat ownership is for them.
"We're thrilled to be expanding our sales team with someone who has a wealth of knowledge in customer relations and development sales," said Bruce Shugart, Developer of The Porches. "Beth brings excitement and enthusiasm to The Porches Sales Team, along with her 19 years of experience in resort real estate sales, marketing, master planning and development."
About The Porches of Steamboat Springs
The Porches is a neighborhood of homes located in the base area of the ski mountain in Steamboat Springs, Colorado. These high end, thoughtfully crafted homes range in size from 3,000 square feet to 5,000 square feet and they feature custom beams, professional kitchens, the finest cabinetry, custom ranch stone fireplaces, and of course, comfortable and inviting porches. These luxury homes are available for whole and fractional ownership, and as luxury rentals.
Media contact:
Sabra Wiethoff
Structural Associates Company
4185 County Road 154
Glenwood Springs, CO 81601
970.945.0147
sabra(AT)structuralassoc.com
http://www.structuralassoc.com