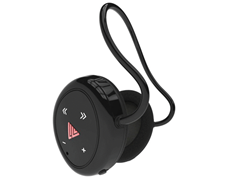 As an athlete I count on music to get me fired up before a game and keep me going through workouts," said Clayton. "It was a fateful Sunday that spurred the concept of LIVV that I am confident all athletes will love."
Dallas, Texas (PRWEB) September 02, 2015
When former first round draft pick and NFL wide receiver Mark Clayton broke his Beats headphones during a pre-game workout, he decided it was time to create something more durable that would stay in place no matter the physical activity and sound amazing. On September 1, Clayton finally bring his premium LIVV Headphones (http://www.LIVVHeadphones.com) to market with a Kickstarter campaign.
Created specifically for the "active" in all of us, LIVV Headphones were created with the idea that everyone should be able to "Live Free" –free from wires, free from restrictions, free from limitations. The difference is the sure fit head band designed to stay in place during any activity from running to lifting, parkour, and more.
The problem Clayton noticed was that traditional headphone headbands simply go over the crown of the head, and, in order to get a pair of headphones to stay on with that type of band, one would need to apply a ton of tension to the band. This would cause major discomfort and is sure to leave not only indentions where the cups are planted firmly to the head, but possibly a headache or two.
The contorsional headband on the LIVV Headphone is the first of its kind. Its unique design disperses just the right amount of pressure across three key areas on the head, ensuring a comfortable and secure fit, and also offers:
"As an athlete I count on music to get me fired up before a game and keep me going through workouts," said Clayton. "It was a fateful Sunday that spurred the concept of LIVV that I am confident all athletes will love."
Features:

Wireless
Lightweight
Sweat & waterproof
Onboard 8GB MP3 storage
Bluetooth 4.0
Removable/washable memory foam ear pads
Premium studio quality sound
12-hour rechargeable lithium ion battery
Onboard controls
Built-in mic
Patented SureFit band
Clayton was further inspired later on a plane to a game watching a fellow team mate attempt to untangle the wires of his headphones with some frustration.
"It's one of those moments when you see an opportunity to fix a few common problems within a crowded industry and either take the risk or not," says Clayton. "For me, it was a no brainer. I took risks on the field and as my time was winding up with the NFL I knew this was the off the field risk I had to take."
Helping with the design was veteran mastering engineer and audio specialist, Dale Lott, who has built key communication and sound systems for the Armed Forces, NASA and major recording artists. Lott's expertise and creativity helped Clayton develop the unique band and premium quality sound, which brought the dream of LIVV Headphones to life.
The headphones are available for pre-order at http://www.LIVVHeadphones.com and retail for $299.99. Starting September 1, active music lovers will have the opportunity to get their pair of LIVV Headphones at promotional prices as part of the company's Kickstarter campaign that will help bring the headphones to market this fall.
About LIVV Headphones
The brainchild of former NFL wide receiver Mark Clayton, LIVV Headphones and the first premium over-ear wireless active headphone for people who want to live life free –free from wires, free from restrictions, free from the hassle of traditional headphones. The LIVV difference is in our design and technology. We answer the questions and solve the problems that accompany an active lifestyle, and know that music is an important part. You should simply be able to move freely and be inspired by the music you love. Finally, the freedom is available with LIVV Headphones, http://www.LIVVHeadphones.com. LIVV has been featured in USA Today, Real Biz with Rebecca Jarvis, Dallas Business Journal, Forbes and Sports Palooza podcast.
About Mark Clayton
Mark Clayton is a former American football wide receiver of the National Football League. An All-American and All-Big 12, Clayton played college football for the Oklahoma Sooners from 2001 to 2004 where he helped them win the Big 12 Championship and both the Cotton and Rose Bowls. He was drafted by the Baltimore Ravens in the first round of the 2005 NFL Draft and also played for the St. Louis Rams. In 2012, he began researching and building his new venture LIVV Headphones.
###