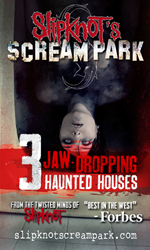 "Become aware. Stay alert. Know what's behind every corner. We are bringing our temperature to a haunted house this October. If you suspect that something may frighten you, well then your instincts are correct." - Clown from Slipknot
Sacramento, CA (PRWEB) September 02, 2015
In a revolutionary pairing this Autumn, horror and music fans alike will flock to Northern California en masse to experience Slipknot's Scream Park. Slipknot band members Corey Taylor and M. Shawn "Clown" Crahan have partnered with Sacramento based Scream Park California to produce an event that explores a whole new, intensely visceral world of horror, as only Slipknot can provide. Featuring three haunted houses, and thunderous live horror entertainment, the event is expected to attract over thirty thousand attendees from around the world. Said Clown from Slipknot, "Become aware. Stay alert. Know what's behind every corner. We are bringing our temperature to a haunted house this October. If you suspect that something may frighten you, well then your instincts are correct. Be a part of the new way. The only way."
Masterminding a full immersion in horror for attendees is right in line with much of what Slipknot stands for. From the band's very beginnings, Slipknot's visual and artistic aesthetic tapped into a deep appreciation of the horror genre. Across a career which to this point has notched 40 Gold and 12 Platinum albums and hundreds of millions of video views, Slipknot's driving forces have been brilliant music and showmanship, coupled with a profound willingness to unsettle. Slipknot's presence within the horror genre is massive, with their music placed in several films and franchises (Resident Evil, Freddy Vs Jason, Rollerball), while outside of the band, Taylor has acted ("Fear Clinic") and written bestselling books and comics (Dark Horse "House Of Gold & Bones"). Crahan has directed many of Slipknot's most compelling videos and short films (and recently completed work on his feature length directorial debut "Officer Downe"), starred in the horror film "Devils Carnival", and created a darkly beautiful art book "Apocalyptic Nightmare". Horror is in Taylor and Crahan's DNA, and they are both executive producers at Slipknot's Scream Park, taking a very active role in the planning and production of the event.
Scream Park California is known widely to produce high-intensity events, earning accolades such as Scariest in California (HauntWorld), and Best in the West (Forbes). According to co-producer Nathan Polanco, "It's going to be bigger, scarier, and more intense than ever before. Slipknot has taken us to a whole new level."
This year, the entire event will be Slipknot inspired, featuring three haunted houses named for the band. Said Polanco in an interview, "the haunted houses have definitely been taken up a notch this year. It's definitely a whole new brand of horror. Slipknot's body of work and expertise have proven to be an incredible asset during the production of these haunted houses. These are horror opportunities that were previously unimaginable." The three haunted houses featured at the event this year are titled Prepare for Hell, Skin Ticket, and Clown's Playhouse. The band has been tight lipped about the specific contents of each maze, but have let slip that one will be completely dark, with fans receiving only a flashlight with which to navigate endless nightmarish hallways.
In addition, Slipknot's Scream Park has partnered with the Monster Energy AFTERSHOCK Festival to produce the Monster Energy AFTERSHOCK Pre-Party on Friday, October 23 from 7pm to midnight. Combo tickets to both Slipknot's Scream Park and Monster Energy AFTERSHOCK Festival will also be on sale.
The event is open twenty nights throughout October, starting on the 2nd. For tickets and information, visit ScreamParkCalifornia.com.
Slipknot's Scream Park
4909 Auburn Blvd.
Sacramento, CA 95841