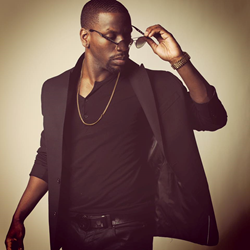 Something new is coming to New York Fashion Week
New York, NY (PRWEB) September 10, 2015
King Cavalli may be an actor, singer, and best-selling author with a jam-packed schedule, but there is one task he'll always make the time for: finding a cancer solution. He will be debuting his newest music project 'Forever's Not Forever' this week in New York City at New York Fashion Week with Sound Affects, a music inspired non-profit that raises funds for cancer research and solutions.
King Cavalli started his career as an author of a chart topping memoir, 24 and Divorced under the name, Leonardo Cavalli. Throughout the book he speaks on red flags he should have avoided, and lessons he learned that he uses to counsel other courting and married couples during marriage seminars. He has decided to create music and videos to help tell the true story of the book. Along with joining an elite group of musicians with literary ambitions, he has decided to release a companion album with theatrical style videos to tell his story through music. The album, Forever's Not Forever, was produced by well-known producer PARKER. He has dedicated his life to helping others find love and stay in love through music, motivational seminars, and counseling.
King Cavalli recently partnered with Sound Affects because of his mission to support charity in cancer research. Sound Affects strategically partners with celebrity musical artists to promote their mission, which is the Band Together to Fight Cancer. King Cavalli asks his supporting fans to be an integral part of his campaign to giving funds to cancer research and cures. By using crowd funding to help raise funds for a non-profit, Cavalli is using his power to bring positivity into a world negatively impacted by a disease our society has no control over.
He mentions, "I absolutely love Sound Affect's thoughtful and unique campaign idea to incorporate the power of music to something so needed and am so honored that they asked me to be a part of it."
In his campaign, he plans on giving rewards that will allow fans to attend a fashion show during New York Fashion Week, to obtain Cavalli's best-selling book, along with so much more. He looks forward to his upcoming East Coast tour to be announced later this year, along with his continued support and collaboration with Sound Affects.
ABOUT SOUND AFFECTS:
Sound Affects is a 501c3 non-profit organization whose mission is to disrupt how the war on cancer is fought and financed. Sound Affects empowers individuals to influence the future of cancer care by offering a crowdfunding platform for bio-entrepreneurs who are actively working on solutions for cancer. Sound Affects strategically partner with celebrity and amateur musical artists to promote our approach to revolutionizing the war on cancer. Music is our metaphorical torch.
ABOUT CRE8TIVE IMPACT
Cre8tive Impact strategically connects music and entertainment brands with consumers through marketing and branding partnerships in public relations, fashion, sports, and consumer products. Cre8tive Impact helps brands create strong and sustainable programs by reaching a mass global audience while elevating credibility with key influencers.
Media Contact:
Courtney Manlove
Courtney(at)cre8tiveimpact(dot)co
http://www.twitter.com/idetailyourlife