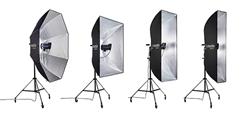 North White Plains, NY (PRWEB) September 02, 2015
Elinchrom's new Litemotiv family continues to grow. Elinchrom, creators of the most popular light shaping tools in the world, has added four new Indirect Softboxes to replace its existing line of Indirect Lightbanks. Built with a new fabric that offers better light distribution, the new Litemotiv Indirects will sculpt and diffuse the light in a beautiful, rich, and even way. They will quickly become the industry standard for any location or studio photographer who seeks portable and lightweight light shaping solutions with zero compromises on quality. The flash unit is fitted easily and securely, while set-up and teardown is quick and easy too.
The four new sizes are:
Indirect Litemotiv Octa 190cm/75"
Indirect Litemotiv Square 145cm x 145cm/ 57" x 57"
Indirect Litemotiv Recta 72cm x 175cm / 29" x 69"
Indirect Litemotiv Strip 33cm x 175cm / 13" x 69"
Features include:

New high quality black/silver fabrics, more light, better light distribution and can be used with 650W Halogen modeling lamps.
All Indirect Litemotiv's are supplied with external diffuser, internal diffuser and carrying bag.
360° rotating system.
Accepts all Elinchrom flash heads including Quadra heads, with Quadra Reflector Adapter MKII (EL26342).
Accepts all Profoto™ flash heads via the EL to Profoto™ Adapter (EL26333).
Easy and fast to set up, with the unique Elinchrom folding construction.
Quality of Light
The central mounting for the flash head places the flashtube at the point of focus inside these softboxes for the best possible results. The optical result is a light source that is so even–with superb color saturation at the diffuser surface–that many famous photographers use the Octa as a single light source for portraiture.
More Light
The new reflective fabric of the Indirect Litemotiv Softboxes is unique. It offers more light output compared to previous fabrics while offering the same distinctive Elinchrom look. This new fabric is also heat-resistant, meaning that 650W hot lamps can be used with our new Indirect Litemotiv. It is also more durable, making it the perfect tool for rental studios.
Compatibility
The integral reflector of Elinchrom flash units is designed to maximize efficiency and even light distribution; they are the best fit for the Indirect Litemotiv. The flashtube is precisely positioned 20mm from the surface to avoid the inherent unevenness of non-concentric flashtubes. The bayonet mount is compatible with all Elinchrom flash units since 1974.
Renowned
These large yet lightweight softboxes have won worldwide popularity. The Octa 190cm/75" is the most popular softbox amongst photographers for its versatility and size.
Stability
We know these softboxes travel around the world. This is why we added small rings to each side of our Indirect Litemotiv shapers so that photographers can securely attach the Indirects to the ground or any element around them.
Portability
The unique folding system allows for a speedy setup of the Indirect Litemotiv in any location and with each softbox, there is a high quality carrying case included to transport it safely anywhere you go.
Pricing of the four new Indirect Litemotivs:
EL28000 - Indirect Litemotiv Octa 190cm/75" ($1,420.00)
EL28001 - Indirect Litemotiv Square 145cm x 145cm/ 57" x 57" ($1,330.00)
EL28002 - Indirect Litemotiv Recta 72cm x 175cm / 29" x 69" ($1,230.00)
EL28003 - Indirect Litemotiv Strip 33cm x 175cm / 13" x 69" ($1,169.00)
About MAC Group
MAC Group is a sales, marketing, and distribution company dedicated to supplying passionate photographers, videographers, educators and students with the world's finest image-making tools, education and inspiration. MAC Group represents brands across 3 categories: Tripods, Bags and Filters, Lighting and Grip, Photo and Video Accessories.
For more information on the MAC Group, please visit: http://www.MACgroupUS.com