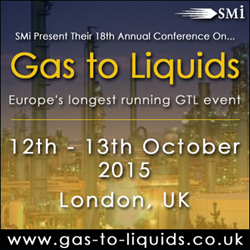 Regularly visited by over a hundred experts from around the world, Gas to Liquids 2015 is sure to be one of the highlights of the industry
London, UK (PRWEB UK) 1 September 2015
Mozambique is set to become one of the world's largest exporters of LNG, after recent offshore natural gas discoveries made in the country since 2010. Roger Carvalho, Managing Director, SPTEC Advisory will be presenting on Day Two of SMi's 18th annual Gas to Liquids Conference. In his unique presentation entitled "Is Mozambique the New Qatar," Mr. Carvalho will discuss the potential for GTL and liquefied natural gas products in Mozambique and the possibility of integrated LNG and GTL plants. SPTEC Advisory are an independent advisory firm focusing on the Oil & Gas industry in Africa and the Middle-East.
For more information on this event visit http://www.gas-to-liquids.co.uk/prweb
Narsi Ghorban, Managing Director, Narkangan GTL International Company, will be presenting on Day Two on "The Influence of West Asian politics on GTL investment – Challenges and Opportunities." Highlights from the talk include: Analysis of Iran's gas reserves and most economical gas monetisation options available as well as examination of West Asia's political challenges and effect on GTL investment. Narkangan Gas to Liquid International Company (NGTLIC) focuses on the Gas to Petroleum Products and is working towards the development of the first such plant in Iran, 65 kilometers from Shiraz.
Regularly visited by over a hundred experts from around the world, Gas to Liquids 2015 (12-13 October 2015, Holiday Inn Kensington Forum, London, UK) is sure to be one of the highlights of the industry calendar providing delegates with insightful presentations on more of the latest developments within the GTL industry. Now in its 18th year, this popular industry event is a unique opportunity to gain a competitive edge as well as key insight into the strategies to overcome the logistical, financial, technological and economic challenges associated with GTL projects.
Further information is available at http://www.gas-to-liquids.co.uk/prweb
Additional Key Event speakers include leading experts from Velocys, Primus Green Energy, ExxonMobil & Research, NiQuan Energy, Oberon Fuels, E-Meta Venture, Malwell Corporate Projects, CEG Europe, SMBC Europe Division, ABB Group, Renaissance Heavy Industries and many more.
Latest registered organisations: Intrepid GTL, Repsol, Velocys, Air Liquide Global E&C Solutions Germany GmbH, Servon Nigeria, Alter NRG, Ventech XTL, Tasweek and many more…
The event programme also includes an interactive half-day post-conference workshop "How viable are GTL opportunities in today's energy price world?", hosted by Alex Forbes, Director, Forbes Communications.
GTL-2015 is proud to be supported by Interfax Energy, Cedigaz, Gas Infrastructure Europe Association, Fierce Energy, Inderscience Publishers, NRG Expert, LNG Industry, Petroleum Africa, Navigant Research and many more.
Sponsorship: contact Alia Malick +44 (0) 207 827 6168, amalick(at)smi-online.co.uk
Delegate information: contact Andrew Gibbons +44 (0) 207 827 6156, agibbons(AT)smi-online.co.uk
Contact for media-partners: Julia Rotar, jrotar(AT)smi-online.co.uk
http://www.gas-to-liquids.co.uk/prweb
------------------------- END --------------------------
About SMi Group:
Established since 1993, the SMi Group is a global event-production company that specializes in Business-to-Business Conferences, Workshops, Masterclasses and online Communities. We create and deliver events in the Defence, Security, Energy, Utilities, Finance and Pharmaceutical industries. We pride ourselves on having access to the worlds most forward thinking opinion leaders and visionaries, allowing us to bring our communities together to Learn, Engage, Share and Network. More information can be found at http://www.smi-online.co.uk