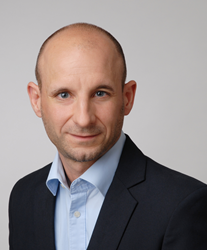 I am looking forward help NETRONIC grow as leading supplier of visual scheduling solutions.
Aachen. Germany (PRWEB) September 03, 2015
NETRONIC Software GmbH, the Gantt Solutions Company and leading supplier of visual scheduling software, announces that Dr. Elmar Karlowitsch has been assigned as new Managing Director. Strategically re-aligning the company for further growth, he strengthens his brother Dr. Martin Karlowitsch in leading the company as a managing shareholder. Standing besides Elmar and Martin Karlowitsch, alabon Business Development GmbH remains a strategic shareholder of the company.
40-year-old Dr. Elmar Karlowitsch studied Business Management with a focus on financial controlling and production management. After completion of his doctoral thesis he established and managed both project and financial controlling at 4Production AG. Most recently, his role was CFO at PSI Metals, a subsidiary of PSI AG, a leading supplier of production management software. At NETRONIC, Elmar will be responsible for the fast growing business within individual planning solutions for SMB production companies as well as for Financial Controlling. Martin Karlowitsch will continue to drive NETRONIC's product-based business as well as Marketing.
Dr. Martin Karlowitsch comments: "I am glad that I found a co-entrepreneur for NETRONIC, who brings many assets which we lacked for the strategic development of the company: long-term industry experience with customer-individual production planning software solutions. Based on the visual scheduling know-how that NETRONIC has been gaining over the past decades, we have identified a compelling value creation potential for the SMB market. The fact that my new partner in the company's Executive Leadership Team is my brother definitively yields many advantages for leading the company and I am fully confident that our employees, customers and partners will benefit from this."
"I am looking forward to the new challenges at NETRONIC", adds Elmar. "I got to know NETRONIC as a company of motivated people, leading visualization products, loyal customers and a clear vision and strategy for the future. Hence, I happily moved from Berlin back to my home-town of Aachen to, jointly with my brother, bring this strategy to life and thus make NETRONIC continuously grow and prosper."
About NETRONIC Software GmbH
NETRONIC, the Gantt Solutions Company, based in Aachen (Germany) is a leading supplier of visual scheduling software to help companies manage time- and resource-centric planning data. This visualization with Gantt charts enables customers to make faster and better decisions thus gaining operational agility. Based on more than 25 years' experience with Gantt chart software, NETRONIC provides three offerings for its international customers: (1) the software controls VARCHART XGantt and JGantt enable software developers to integrate flexible and powerful Gantt charts into their applications. (2) The Visual Scheduling Suite for Microsoft Dynamics NAV addresses customers and partners of the ERP system Microsoft Dynamics NAV and offers the fully integrated, interactive visual scheduling of production, project, resource and service order data. (3) For SMB clients, NETRONIC develops tailor-made production planning solutions based on its proven software products.